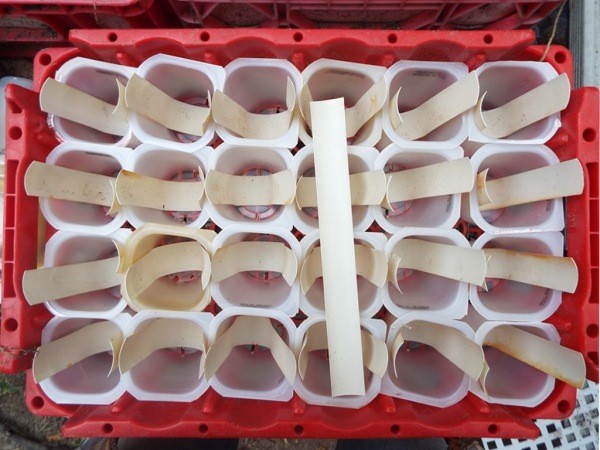 I am in the process of planting several thousand pansy seed. This being my first time to grow pansies from seed, I really wasn't prepared. I have various trays and flats about, and just about anything else that will hold the seedlings until they're ready for transplanting.
I've even begun to transplant some of the seedlings to their permanent locations, in sunken tubs and in small beds under trees. With as many pansies as I'm growing, I have no choice but to 'make do' as best I can.
I realize most of you will not be growing pansies on this scale. So, I decided to share with you my latest contrivance to house the seed; all components, free.
I'm using a discarded drink crate a neighbor found alongside the highway. This is how I came by most all of the recycle bins I use. The drink crate is optional, as most any sturdy container would do.
I filled the crate with pudding cups saved from a couple years ago. I lined the cups with pieces of mini blinds. The blinds had been in an outbuilding for years. I knew I would find a use for them. If you once lift a plant from a cell, using the mini blind, you will always want to use this method. It makes transplanting such a breeze.
Next, I filled the cups with soil and planted the seed. All is very compact and neat. This would be ideal for starting seed inside during the winter. A sheet of plastic underneath to protect counter tops and you're set to go.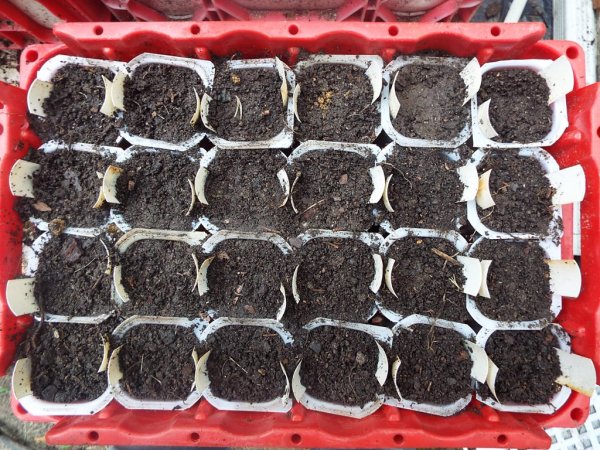 Placed under grow lights or near a sunny window, this little setup should make your indoor seed starting a pleasure.