Buying and Using Compact Fluorescent Bulbs
Solutions
Share on ThriftyFunThis guide contains the following solutions. Have something to add? Please share your solution!
You may or may not have heard on the news about the end of the light bulb as we know it. Normal bulbs are being phased out. The production of incandescent bulbs will end, and they will be replaced with fluorescent bulbs which are supposed to be more energy efficient and environmentally safe.
That said, you have two options for light in the future. The first option is to stockpile normal bulbs while they are still available. Store them in a safe place and use as needed. The other option is to start looking for these new bulbs, and get them when they go on sale.
Right now, they are more of a novelty. I imagine when they become the required norm, they will go up in price. I recently ran across these new bulbs on sale at Lowes for $1.25 each. I purchased four. If you are not familiar with the bulb I am referring to, look at the attached picture. These are the bulbs of the future.
By Suntydt from Tazewell, TN
May 6, 2011
1

found this helpful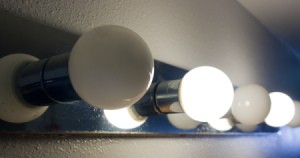 We finally took the plunge last year and replaced nearly all of the lightbulbs in our house with compact fluorescent lightbulbs (CFL). It seemed the responsible thing to do, even if waiting a couple of minutes for full brightness was a little annoying. While it didn't feel thrifty at first, when we took into account their lower wattage used and the longer advertised lifespan, we decided it was a good investment.
Now, less then a year later, 4 of the 6 bulbs in our bathroom have burned out within days of each other. CFL bulbs have come down quite a bit in price lately, but when I got them we paid almost $8 a piece for the vanity globe bulbs. Needing to replace them so soon was a bitter pill to swallow.
On top of that, disposing of them is a bit of a hassle. They do contain trace amounts of mercury and, if not disposed of properly, that mercury will just end up in the landfill. Fortunately, we have Home Depot and IKEA relatively near us. They will recycle the bulbs, but not everyone is so lucky. Visit the EPA website for more information about disposal of CFLs.
Were we duped? Did we use the wrong type of CFL? No, if used properly these bulbs should last for years. The problem is where we put the bulbs and how we used them. The "compact" part of the bulb is not only referring to size of the fluorescent bulb, but also the fact it is it's own self contained bulb and ballast. Being able to make a functional ballast that small and adapt it's shape to a standard screw in light fixture is what made them such an easy replacement for incandescent bulbs.
So the problem is that most fluorescent lights, especially CFLs, are designed to be on for at least 1-2 hours once they are turned on. Turning them on and off within a few minutes repeatedly will drastically shorten their lifespan. That's why they work so well for lighting commercial spaces, but not so much for the bathroom vanity.
So the best way to use CFL bulbs and really get your money's worth is put them in places they can stay on for long periods, once turned on. We have found that they work well as porch lights and in our living room, because those lights don't get used until after dark but tend to be left on for awhile.
LED light bulbs do not have this problem and will be a good alternative in the future. For now though, they seem too expensive for what they are worth. The cheapest I have found is $20 a bulb (usually they are $30-40) so to replace the lights in a our bathroom vanity, that would $120! That is too much right now, even if it does use less energy.
For now, we are going back to the old wasteful incandescent bulbs for our bathroom. We are going to use the lowest wattage possible and be mindful of turning off the light when we are not in the room, the exact behavior that burned out the other bulbs. This fix won't last for too long though because incandescent bulbs will be phased out by 2014.
By Stew
Editors Note:Would you like to share your own experiences with CLF or other energy efficient lighting options? Post your ideas here!
According to the EPA, if every household in the U.S. replaced one light bulb with one of their ENERGY STAR rated compact fluorescent bulbs, it would be the pollution equivalent of pulling one million cars off the road. That sounds easy enough right, so why isn't everyone doing it?
The Big Deal About CFLs
Probably the biggest obstacle standing in the way of a mass switch to CFLs is the up front cost. Most consumers still assume they're too hard on the budget. The truth is, CFLs have come down considerably in price. Now, not only are they good for the planet, but they're good for the pocketbook.
They're Efficient
CFL's use 1/4 to 1/3 the amount of electricity as incandescent bulbs. That's because incandescent bulbs waste 90% of their energy putting out heat and use only 10% for visible light. CFL's burn at an average of 100°F, where incandescent bulbs burn hot enough to fry an egg!
They're Long Lasting
A typical household spends $110 dollars per year on lighting. CFL's have a much longer lifespan than regular incandescent bulbs-up to 10 times as long. Replace a regular bulb with a CFL and you can avoid buying ten 75watt bulbs.
They Help Fight Global Warming
CFL's help fight global warming in two ways. First, they operate using less electricity. Second, using a CFL means making less incandescent bulbs-a process that produces carbon dioxide. That means that in places where coal is used to produce electricity (in most places), each CFL will cut carbon dioxide emissions by about 1,300 lbs over its lifetime.
They Save You Money
CFL's might cost a little more up front, but they still offer more savings than cheap, inefficient incandescent bulbs by using less electricity to operate and reducing the need to buy replacement bulbs. The average CFL will save you $45 in energy costs alone over the life (10,000 hours) of the lamp (based on $.10/kWh).
Tips for Buying CFLs
Advances in CFL technology have greatly improved their operating efficiency and their performance. No more heavy bulbs, and humming, flickering lights. CFLs are now instant on, quietly flicker-free, and light as a feather.
The Right Bulb for the Job: Choose a CFL according to its planned use. Because CFL's are slightly heavier than their incandescent counterparts, avoid using them in portable lamps where the distance from the bottom of the base to the top of the lamp exceeds three times the minimum base width. Special CFL's are made for outdoor and dimmer fixture applications.
The Right Size: CFL's come in a variety of tube shapes and ballast-end sizes. When buying CFL's make sure the electronic ballast end of the bulb is the right size for the socket you intend on using it in and the bulb end doesn't interfere with your fixture's shade or votive.
The Right Lumens: All lamp output is measured in lumens. In general, a CFL will put out 3 to 4 times as much light per watt as standard incandescent bulbs. CFL packaging makes it easy to find the right size by stating its incandescent equivalent right on the package. For example: A 15W CFL is similar to a 60W incandescent bulb in lumens. Find the bulb with the light output you need, and then choose the one with the lowest watts. After 6-7 years of use, CFL's will lose about 30% of their lumen output.
Color Quality: Consider color "temperature" and the "color rendering index" when selecting a CFL. Color temperatures for CFLs usually range between 2700 and 4100K. Bulbs with lower numbers produce a softer, warmer light, while the higher numbers produce a brighter, cooler light. The color temperature index refers to a light source's ability to illuminate true colors. Look for CFL's with a color-rendering index (CRI) of 80 or higher for the best reproduction of true colors.
Rebates: In addition to the long-term savings built in to CFL technology, many power companies offer mail-in rebates on CFLs the same way they do when you purchase an energy efficient water heater or furnace. Go to www.energystar.gov and click on "special offers" to see it there are rebates available in your area.
Tips for Using CFLs
For the greatest energy savings, use CFLs in fixtures you use most often. They operate most efficiently when they are used for 2 or more hours at a time. Handle CFLs by the plastic base when inserting and removing from fixtures.
Use CFLs in hard to reach fixtures or fixtures where bulbs are difficult to change, like ceiling fans and enclosed outdoor lights.
CFLs and Mercury
CFLs contain less than 4.0 mg of Mercury (assists in starting). That is about 1/1000th of an ounce. Because coal-fired plants making electricity release mercury in their emissions, the use of energy efficient CFLs results in a net reduction of mercury released into the atmosphere compared to using incandescent bulbs.
This amount of mercury isn't considered dangerous in the home, even if a CFL breaks. Still, spent CFLs should be disposed of at hazard waste collection sites like products such as paint, car batteries and thermostats.
June 21, 2007
0

found this helpful
Swapping 16 incandescent bulbs for compact fluorescent light bulbs (CFL) saves emissions equivalent to taking a car off the road for a year.
Read More...
Lower your electric bill by replacing as many standard incandescent light bulbs as possible with compact fluorescent bulbs. Don't wait for the standard bulbs to blow out.
Read More...
May 29, 2007
0

found this helpful
When buying Compact Fluorescent Bulbs, look for brands with the Energy Star label. Those are rated to last long and use less energy than "cheaper" bulbs without the logo.
Read More...
September 23, 2004
1

found this helpful
We finally replaced them all with fluorescent light bulbs and haven't replaced a burnt out bulb in over a year.
Read More...
Related Content