You may or may not have heard on the news about the end of the light bulb as we know it. Normal bulbs are being phased out. The production of incandescent bulbs will end, and they will be replaced with fluorescent bulbs which are supposed to be more energy efficient and environmentally safe.
That said, you have two options for light in the future. The first option is to stockpile normal bulbs while they are still available. Store them in a safe place and use as needed. The other option is to start looking for these new bulbs, and get them when they go on sale.
Right now, they are more of a novelty. I imagine when they become the required norm, they will go up in price. I recently ran across these new bulbs on sale at Lowes for $1.25 each. I purchased four. If you are not familiar with the bulb I am referring to, look at the attached picture. These are the bulbs of the future.
By Suntydt from Tazewell, TN
May 6, 2011
1

found this helpful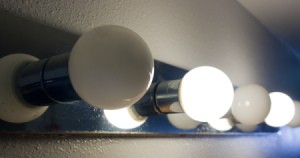 We finally took the plunge last year and replaced nearly all of the lightbulbs in our house with compact fluorescent lightbulbs (CFL). It seemed the responsible thing to do, even if waiting a couple of minutes for full brightness was a little annoying. While it didn't feel thrifty at first, when we took into account their lower wattage used and the longer advertised lifespan, we decided it was a good investment.
Now, less then a year later, 4 of the 6 bulbs in our bathroom have burned out within days of each other. CFL bulbs have come down quite a bit in price lately, but when I got them we paid almost $8 a piece for the vanity globe bulbs. Needing to replace them so soon was a bitter pill to swallow.
On top of that, disposing of them is a bit of a hassle. They do contain trace amounts of mercury and, if not disposed of properly, that mercury will just end up in the landfill. Fortunately, we have Home Depot and IKEA relatively near us. They will recycle the bulbs, but not everyone is so lucky. Visit the EPA website for more information about disposal of CFLs.
Were we duped? Did we use the wrong type of CFL? No, if used properly these bulbs should last for years. The problem is where we put the bulbs and how we used them. The "compact" part of the bulb is not only referring to size of the fluorescent bulb, but also the fact it is it's own self contained bulb and ballast. Being able to make a functional ballast that small and adapt it's shape to a standard screw in light fixture is what made them such an easy replacement for incandescent bulbs.
So the problem is that most fluorescent lights, especially CFLs, are designed to be on for at least 1-2 hours once they are turned on. Turning them on and off within a few minutes repeatedly will drastically shorten their lifespan. That's why they work so well for lighting commercial spaces, but not so much for the bathroom vanity.
So the best way to use CFL bulbs and really get your money's worth is put them in places they can stay on for long periods, once turned on. We have found that they work well as porch lights and in our living room, because those lights don't get used until after dark but tend to be left on for awhile.
LED light bulbs do not have this problem and will be a good alternative in the future. For now though, they seem too expensive for what they are worth. The cheapest I have found is $20 a bulb (usually they are $30-40) so to replace the lights in a our bathroom vanity, that would $120! That is too much right now, even if it does use less energy.
For now, we are going back to the old wasteful incandescent bulbs for our bathroom. We are going to use the lowest wattage possible and be mindful of turning off the light when we are not in the room, the exact behavior that burned out the other bulbs. This fix won't last for too long though because incandescent bulbs will be phased out by 2014.
By stewmangroup
Editors Note:Would you like to share your own experiences with CLF or other energy efficient lighting options? Post your ideas here!