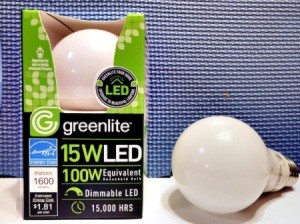 I have three 48 inch double fluorescent lamp fixtures mounted under an upper kitchen cabinet. I use them to start seedlings during late winter. Over time, all the 40 watt lamps have dimmed. Even when new, these 6 lamps did not produce near the light my plants needed. At a cost of $30.00 to replace all lamps. I decided to go a different route.
For several years, I have been using CFLs in my home, even before the advent of LED lamps. I was satisfied with them, except for the price. $3.00 per lamp was just to much (in the lighting industry, which I was a part of for 10 years, the bulb itself is called a lamp).
I wanted to make a gro light fixture using CFLs but found it cost prohibitive. I put the project off for 3 years. Then I came across low cost LED lamps at Dollar Tree. I found 9 watt (60 watt eq) LED lamps for a dollar each. I bought 24.
On a recent visit to Dollar Tree, I found they now have 15 watt (100 watt eq) lamps, also at a dollar each. I bought 10. With all these lamps on hand, I decided to do a comparison of the CFLs and the LEDs. Here is what I found. All figures are based on 100 watt eq lamps.

Average cost of one 23 watt (100 watt eq) CFL = $3.00 (as of 5 years ago).
Average cost of one 15 watt LED (100 watt eq) (Dollar Tree) = $1.00.
Average lumens for both = 1600 ( I found the LEDs actually appear brighter).

Average life of CFLs =10,000 hours
Average life of LEDs = 15,000 hours
Average operating cost for CFLs (at 3 hrs/day) $2.77 per year. (Figure is 5 years old).
Average operating cost for LEDs (at 3 hrs/day) $1.81 Per year. (Figure is current). (When using as many lamps as I plan to use, the savings will really mount up).
These figures convinced me LEDs is the way to go. But there's more. A feature I will not use is, LEDs (at least the ones I bought) are dimmable.
While the lamps I compared had a 3000k and a 5000k color temperature with the LED being the lower, I could discern no color difference when burning both side by side.
Maybe most important of all, LEDs are mercury free!
I see a declining market for CFLs. Fewer purchases, higher prices. Unless I'm mistaken, there's currently nothing on the market better than LEDs, except for solar powered lamps; and only then if you live in specific areas.
I done good, Y'all!