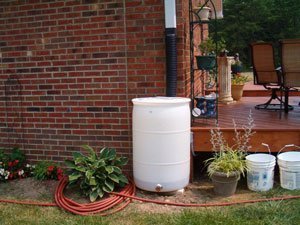 Make your own rain barrels with what you have, practically free. My husband asked around at local companies and came up with white plastic barrels. The rest he already had in his shop. He then connected them to our gutters and added a spigot at the bottom, to let gravity feed the water out. He even put screen where the gutter goes into barrel to keep out trash.
He connects the water hose to spigot and waters the flowers. We waste less water and always have extra water for the flowers. They don't look bad either, you could paint them if you like. It's been dry in NC and every drop of water saved is an advantage and we don't have to water from our well.
By Wanda from Climax, NC
Comments
Read More

Comments
Does anyone know a good company or industry that might be a good source for free or cheap recycled plastic 55 gallon barrels that would make good rain barrels?
Thanks,
Deb from Lawson, MO
Answers

Kelly
Bronze Feedback Medal for All Time! 233 Feedbacks
July 11, 2006
0

found this helpful
Go to the Car dealers w/shops or any big Tire & Lube. They get their oil in the 55 gallon drums, but I am not sure if you can get plastic....some might have it. My DH used to work at a Toyota dealership, and snagged an empty one and made a BBQ grill out of it. It was beautiful!
Or you can ring your local Landfill/Recycling center to call you if they come in, or to see who sends them that way.

July 17, 2006
0

found this helpful
I just made a rain barrel this weekend and purchased the barrel from a vendor who bought it from a soda pop manufacturer. Mine smells like Dr. Pepper! You might try contacting a bottler.
By richard t (Guest Post)
June 9, 2008
0

found this helpful
I've got mine from a car wash, and local car dealers, who are usually happy to get rid of them. Even got several from a local rebottler of shampoos and such. When I run out, I'll try the coal bottler down the road. Feel free to contact me at r s tidyman at yahoo . com, but of course you need to put that together.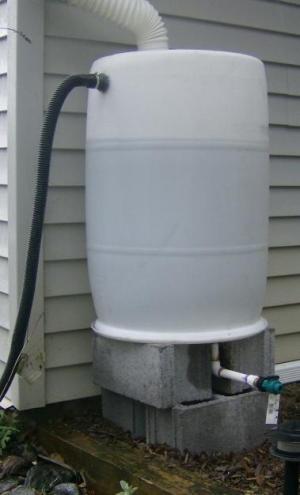 June 25, 2013
0

found this helpful
Contact This Supplier For Rain Barrels (Empty)

June 4, 2018
0

found this helpful
My coca-Cola bottling plant in Pooler, Ga does not offer used barrels to the public. I just asked. Bastards.

July 14, 2018
2

found this helpful
Why are they (coca-cola) "bastards"? If they give you a drum, you put water in it, someone drinks it and gets sick... who they gonna sue, you or coca-cola?
My bakery used to give away day old bread, can't do it anymore because there is no longer a chain of custody for recall, again if someone gets sick who they gonna sue?
I'm not picking on you jonnyreb, just putting some facts out here.
Blame the sue happy people, not the company.
October 28, 2018
0

found this helpful
I noticed that you flipped the rain barrel over and have a white pipe coming from the bottom, that must be for the water line. What is the black pipe for? Also, how did you seal up the white pipe at the bottom, and with what? What are you filtering the rain water with? Thank you for your time.
David A.
Read More

Answers