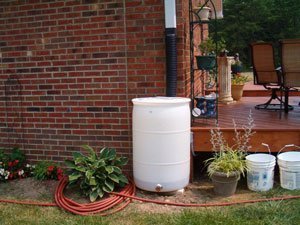 Make your own rain barrels with what you have, practically free. My husband asked around at local companies and came up with white plastic barrels. The rest he already had in his shop. He then connected them to our gutters and added a spigot at the bottom, to let gravity feed the water out. He even put screen where the gutter goes into barrel to keep out trash. He connects the water hose to spigot and waters the flowers. We waste less water and always have extra water for the flowers. They don't look bad either, you could paint them if you like. It's been dry in NC and every drop of water saved is an advantage and we don't have to water from our well.
By Wanda from Climax, NC
Comments
June 25, 2008
0

found this helpful
Top Comment
Making and having a rain barrel to water my garden has been so much fun. We live in GA and it is HOT and DRY here with water restrictions.
We made the rain barrels this year. It only takes 1/4" of rain to fill the barrels up.
Here's a photo of two 55 gallon barrels that we connected to each other. That makes 110 gallons of water. They're raised up 3 cement blocks high in order to gravity feed through a hose to my garden across the yard.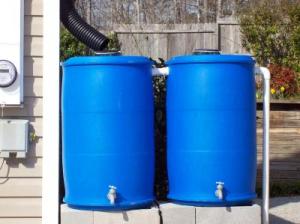 June 25, 2008
0

found this helpful
This is a great idea. My husband has been doing this for a while. He puts the spicket up about 8 inches or highter, so that way the dirt goes to the bottom.
He cleans it out in between rains. We use ours for watering garden, chickens, and turkeys.
By j (Guest Post)
June 25, 2008
0

found this helpful
What kind of places did he get the barrels from?
By Connie (Guest Post)
June 26, 2008
0

found this helpful
I've been using rain barrels for years and my plants both in ground and in pots are thriving beautifully. I tried watering them with tap water several years ago and the flowers drooped and appeared to be dying. It could have been the chlorine in the water, or any number of things that's added to our drinking water which we've adjusted. I guess you know I returned to using the rain water again.
Read More Comments