June 25, 2008
0

found this helpful
Top Comment
Making and having a rain barrel to water my garden has been so much fun. We live in GA and it is HOT and DRY here with water restrictions.
We made the rain barrels this year. It only takes 1/4" of rain to fill the barrels up.
Here's a photo of two 55 gallon barrels that we connected to each other. That makes 110 gallons of water. They're raised up 3 cement blocks high in order to gravity feed through a hose to my garden across the yard.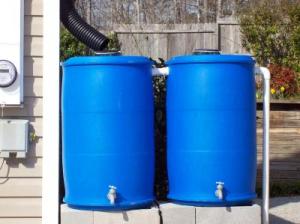 August 10, 2018
0

found this helpful
I am looking for these 55 gallon plastic drums with lids and I live in Haverhill Massachusetts I need to get at least 4 to 5 Barrel using them for Rainwater can you help me find them and hopefully they are practically free or if a little money
September 14, 2019
0

found this helpful
What price and where
June 25, 2008
0

found this helpful
This is a great idea. My husband has been doing this for a while. He puts the spicket up about 8 inches or highter, so that way the dirt goes to the bottom.
He cleans it out in between rains. We use ours for watering garden, chickens, and turkeys.
By j (Guest Post)
June 25, 2008
0

found this helpful
What kind of places did he get the barrels from?
By Connie (Guest Post)
June 26, 2008
0

found this helpful
I've been using rain barrels for years and my plants both in ground and in pots are thriving beautifully. I tried watering them with tap water several years ago and the flowers drooped and appeared to be dying. It could have been the chlorine in the water, or any number of things that's added to our drinking water which we've adjusted. I guess you know I returned to using the rain water again.
June 26, 2008
0

found this helpful
I am curious if you have considered the materials used to manufacture the plastic barrels and if there is anything that might contaminant the water when the plastic heats up in warm weather.
By no name today (Guest Post)
June 26, 2008
0

found this helpful
What about mosquitos hatching in there? Are you covering it?
By Marna (Guest Post)
June 26, 2008
0

found this helpful
As far as the barrels, you want to get food-grade barrels, ones that food/liquids were shipped in.
Can you or your hubby provide details on directing the gutter into the rain barrel and installing the spigot? I have a barrel; I just don't know what to do next. Thanks!
By Lynda (Guest Post)
June 26, 2008
0

found this helpful
I had a wonderful 80 gallon barrel that was really thick. I stored tap water in it hoping the chlorine would dissipate, but it froze solid one really cold winter and cracked badly. I had to toss it. I learned the hard way to remember to drain it for winter!
; (
June 27, 2008
0

found this helpful
You can google "rain barrels" and get free how-to instructions from other people who have posted their barrel designs.
We did that and downloaded several different designs, then picked out pieces or portions of each design that would fit our situation. Some of the materials in one person's design may not be available in your area. We had to come up with similar type things to make our barrels.
For instance, for mosquito control, we have covered all the openings on the top of the barrel with pieces of window screening and used those plastic ribbed tie zips to hold them on.
We used a black plastic drain pipe cover (that we got at home depot) upside down to aim the guttering into the barrel (covered with screening).
We used plastic faucets with rubber washers to seal it with. A couple faucets were done with metal washers and glue because we couldn't find all the right sizes of all the materials.
Some Home Depot's have DIY rain barrel classes on Saturdays.
July 10, 2008
0

found this helpful
I would like to try to create/use rain barrels this year. However, we do not have gutters on our house. Will the barrels fill enough if just placed in the yard? Or is it necessary to divert/collect from a larger source (i.e., rain diverted off an entire roof)?
Joyce
Zone 5 - Massachusetts
May 14, 2018
0

found this helpful
Try putting something the shape of an inverted umbrella at the top of the barrel to expand the area that rain will fall on. That is how they collect water on lifeboats at sea when it rains.
By susan. (Guest Post)
July 23, 2008
0

found this helpful
I work for a local soil and water conservation district and the request for rain barrels are very high. Is there any one or any company willing to donate 55 gallon barrels to the district?
July 24, 2008
1

found this helpful
For the person who wrote that there weren't any gutters on the house, cut a small hole in the top of your barrel and place a huge funnel in it. The kind of funnel that you can get at the hardware or auto store to use for oil and such. The funnel will help collect more rain for your barrel out in the open.
If you don't have gutters, you could watch where the rain falls from your roof line you could place your barrel under that drip zone and collect more rain water that way.