Origami LED Light Embellishments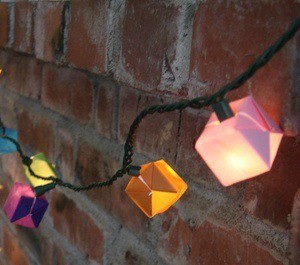 This is a great way to embellish your lights at anytime of the year. These do take some time, but if you get the whole family working on them, they can make nice decorations for your summer parties. Because they are paper, keep them out of the rain.
Supplies:
3 inch square origami paper, or wrapping or other paper cut into 3 inch squares
white LED Christmas type lights (regular small lights could be used, but the LEDs burn very cool and use very little electricity. If you use regular small Christmas lights, check to make sure they don't get too hot.)
Instructions: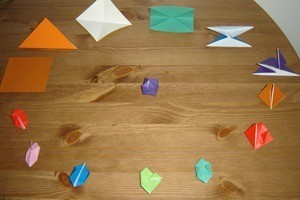 See the pictures for each step in folding your little box light cover.
Fold the square paper diagonally into a triangle with the color side of the paper on the outside.
Unfold and fold diagonally the other direction with the color side of the paper on the outside again.
Unfold and fold in half into a rectangle with the color side of the paper on the inside.
Unfold and tuck the two ends inward inward toward each other along the folds you have already made.

The remaining steps are hard to explain, but the pictures will show you what you are supposed to do.
Fold each flap up on an angle. Do both flaps on the front then flip the paper over and do both flaps on the back. The end result is a diamond.

This is the end result of step 5.

Align the diamond so the slit goes vertically up the front. Fold the two sides of the diamond in to the center slit. Flip the paper over and do the same to the back. The end result is a kind of hexagon.

Steps 8, 9, and 10 are best performed together. Do all three steps with one flap of the paper, then repeat with the other three flaps. First, unfold the flap which was folded in step 7 and instead fold the flap down as shown below.

Next, fold the end of this little flap back toward the center.

Finally, tuck the little flap you have made into the pocket formed by the flap created in Step 7. You can see how it looks with one flap tucked in below.

Repeat steps 8 through 10 on each of the three other parts of the paper.

You will see a little hole at one end of the paper. This is where you blow to inflate the box. Blow into the end of your box, inflating it and making it box-like. It sometimes helps to shape the box with your fingers a little to square up the corners.

Once you have your boxes, stick the end that you blew in over the light and make some more. Get the whole family involved to make a nice party string for your summer parties.
Comments
Read More

Comments
Published by ThriftyFun.
© 1997-2022 by Cumuli, Inc. All Rights Reserved.
https://www.thriftyfun.com/Origami-LED-Light-Embellishments.html