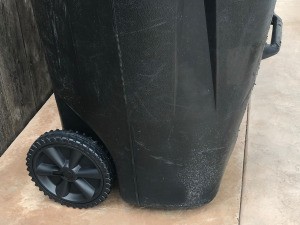 With regular wear and tear, our trash bin wheels broke and it was getting harder to push out every week. For the City of San Diego, if you need a new trash bin given that it is over 10 years, it will cost you $70 + a $25 delivery fee. A pair of replacement wheels range anywhere from $25-35 and it isn't guarantee it'll be the perfect fit and I'd have to order it online.
Ultimately, I decided to give my local Environmental Services a call and ask if they had any replacement parts for sale since my trashcan was still in usable condition. Come to find out, they provide replacement parts for your trash bin free! They also had replacement parts for the handle, lid, etc.
If you need any replacement parts for your trash bin, try calling your local Environmental Service and they may be able to help assist your issue or guide you in the right direction! I was able to drop by and pick up the wheels for free!
The new wheels did require a little sawing and minor adjustments but it worked out perfectly!