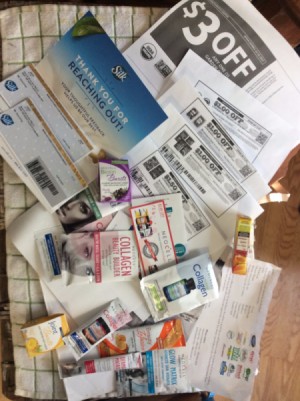 I saw this tip on a thrifty-type reality show. The woman said "if you write to companies of food that you habitually shop with just to compliment them on their product, they will send coupons."
So I figured "what the hell?" I wrote to 8 companies that purvey products that I like - bread, soymilk, organic dairy, salads, and Neocell collagen - to see what happened.
Basically every single one, save one small-scale brand of bread, provided great coupons! They also thanked me kindly and one (Neocell) even went as far as to send me some great product samples! Neocell.com, for all who are curious. In general, this was a very fun thing to do, as much to receive coupons as to create goodwill with a company whose product I use/believe in.
All too often in life we spend more energy communicating with companies to complain, so it's nice to have the idea put in your head the notion to just do it 'just because'. Whether I am fishing for coupons or not, I may just keep doing it