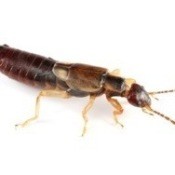 If you've noticed an explosion of earwigs in the garden this year, you've probably experienced an extended period of cool, wet weather. Although usually considered a beneficial insect in the garden, large populations of earwigs can result in significant damage to garden plants. Their presence in large numbers can also be a bit unsettling. Here are some ways to keep their population in check.
About Earwigs
Earwigs get their name from the old wives' tale that they crawl into people's ears while they're sleeping in order to tunnel into their brain and lay eggs. Of course that's not true, but it's certainly unpleasant to think about! Their scary appearance doesn't help either.
Earwigs are reddish-brown in color. They have long, slender bodies, beaded antennae, and a pair of large cerci (pronounced "sir-see") at the tip of their abdomens. The cerci are used like pincers for grooming and capturing prey. Earwigs come indoors to hide, especially in the fall.
They become active at night, when they seem to appear out of nowhere and scurry across the floor like cockroaches. In cold climates, earwigs overwinter by burrowing 2-3 inches into the soil. In late winter to early spring, the females lay 25-30 eggs. Unlike most insects, female earwigs carefully nurture and protect their young until they are old enough to leave the nest.
Friend or Foe?
Gardeners tend to have a love/hate relationship with earwigs. These insects are omnivores, which means they feed on plants, insects, and other organic materials like starch, soap, and glue. Earwigs are beneficial when helping control soil pests, so we love it when they feed on populations of aphids, mites, and other harmful pests in the garden. It's when they turn to our dahlias, hostas, and leafy greens that they're no longer welcome. If disturbed they may try to defend themselves by "biting" you with their pincers, but they will seldom break the skin and are essentially harmless to humans.
Identifying Plant Damage
Earwigs feed at night. They chew small holes in the leaves of plants, and although large populations are capable of causing significant damage, the damage they cause is usually minimal. More often it's cutworms, slugs, and other nocturnal pests that are to blame. Earwigs are seldom seen on plants during the day, preferring instead to congregate in dark, damp, places like under garbage cans, patio furniture, welcome mats, and flower pots. If you suspect earwigs are the cause of the damage, check under these potential hiding places during the day to confirm their presence.
Methods of Control
As stated earlier, earwigs provide some important benefits to your garden by helping control populations of harmful insects like aphids and mites. The goal then should be to keep their populations in balance, not try to eliminate them entirely.
Controlling Them Outdoors
The most direct approach to controlling earwigs is by way of erecting physical barriers or luring them into traps.
Barriers: To protect the waxy or slimy coating on their bodies, crawling insects like earwigs typically avoid exposing their bodies to abrasive materials. To deter them, sprinkle a 3" wide strip of an abrasive material like crushed shells, wood ash, diatomaceous earth, or sawdust around the base of plants.
Traps: The same types of traps used for capturing snails and slugs are also effective for trapping earwigs.
Set a shallow container in the ground so the rim is at soil level. Lure earwigs to the trap by filling the can with fish or cooking oil.
Place rolled up sheets of newspaper between plants and leave them there overnight. In the morning, earwigs will congregate between the sheets, making disposal easy.
Flip over flower pots filled with moist leaves and straw. Collect earwigs daily and dispose of them in a pail of soapy water.
Shaking: In small gardens, simply shaking earwigs from infested foliage takes less time than removing them individually by hand (and it's less creepy). By reducing their numbers, you will be reducing the amount of damage they cause. This method is most effective if done early in the morning (just before sunrise) near the end of their active period. Lay a white sheet on the ground and use your hands or a stick to tap the stems of affected plants, then collect the bugs from the sheet and dispose of them in a pail of soapy water.
Controlling Them Indoors
The best way to control earwigs indoors is to keep them outdoors by altering your gardening practices in a way that puts earwigs at a disadvantage. Earwigs like confined dark places to hide. They are also attracted to moisture and light.
Reduce the use of lighting around doors, windows, and other entry points.
Create a debris-free "mote" around the foundation of your home by raking up leaf debris and removing potential hiding spots (pots, firewood, garden hose).
Avoid overwatering near your foundation and using thick layers of organic mulch. This reduces the growth of moss and algae, two of earwigs' favorite foods.
Seal cracks around doors, windows, and plumbing entry points with caulking or weather stripping.
If you've been working in the garden, check for hitchhikers before coming indoors. Earwigs may be accidentally transported indoors on your clothing or shoes. Remove earwigs that find their way inside with a broom or vacuum.
Take comfort in knowing that when earwigs come indoors, they're simply seeking out places to hide, not looking for places to breed or spend the winter.
Read More

Comments