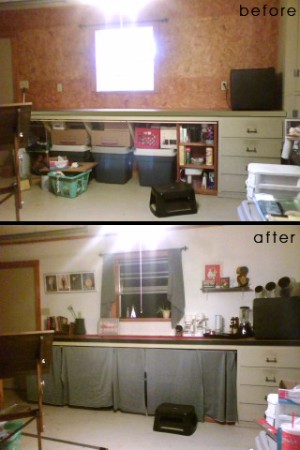 Amazing what a can of primer and some elbow grease can do! I'm saving money (so I can keep up with student loan payments!) by living in my parents' garage. I decided to make it a little less garage-like so I'm attacking one area at a time, hiding storage, cleaning old paint stains, organizing my stuff and making it look as homey as possible.
Here's stage 1 of my workbench-turned-cafe-corner. I did 2 coats of primer on the plywood walls, and made the second one extra thick to get into all the grooves and spaces. The final effect looked more like a textured or plastered wall than painted plywood!
Cost breakdown: $12 for a gallon of primer (only used about half), $3 for marked down fabric (still need to actually sew into curtains, just draped right now), $5 for dowel rods and hooks to make removable undercounter curtain rods, $3 for spray paint for accessories, $2 for shelf brackets, other supplies and accessories pulled from storage and supplies leftover from other projects. Total cost: $25!
By txdesignerd from Texas
Read More

Comments
Does anyone have ideas for converting a garage into a room for a teenager? I know absolutely nothing about these things. The floor is cement, of course, and I'd also have to put up a wall or sealant of some sort around/in front of, the garage door.
Thanks in advance for any ideas!
-Donna
Answers
By Lizzy (Guest Post)
September 30, 2004
0

found this helpful
We used two patio doors to close in the former garage door opening and it makes a nice sunny room. We used self stick vinal flooring to cover the cement.
By (Guest Post)
September 30, 2004
0

found this helpful
I suggest putting a kind of "riser" on the floor, b/c in the winter they will be like ice. Visquine(SP??) would be quick & easy for the garage door, and why not just get a light-colored fabric to drape down in front of the new "wall"?
Might not be a bad idea to likewise cover the other walls, as well.
By Becky (Guest Post)
September 30, 2004
0

found this helpful
We used ceramic tile on our cement floor. It's actually very cost efficient to do if you lay it yourself. We had never done it before, but managed to do 6 rooms (1300 sq. ft.) in less than a week. Home Depot and places like that will instruct you on how to do it. The look and durability is great. In cooler weather, just use a throw rug!
By Stephen Haw (Guest Post)
March 27, 2005
0

found this helpful
I have just spent the last week converting my garage into a home office network building. It took a long and hard process, but the outcome is superb! I'll bebrief with my words on how i did it -
Floor - Underlay insulation then carpet.
walls - supportive fram made of 2x2 then covered with plasterboard (9.5mm). This includes the garage door.
Roof - The current beams were taken down and replaced with new ones using 2x3. THe roof was then covered with plasterboard again with a lining of insualtion ( fibre glass, polystyrene. I used fibre glass ) on the top of the plasterboard. A large hole was left in the middle of the room to allow access for storage etc, i covered this with a hinge door that folds down to a ladder outcome.
Windows - I didn't want to lose any heat through the single glazed current windows installd so i simply just boarded them up with a layer of fibre glass in the centre - I wasn't too bothered about losing the natural light, but u may be so look into that.
My conversion was for a totally different reason for what u want. Although, the warmth in my garage now is more than enough, and i only use one fan heater.
Hope you get it all sorted out in the future! Good luck!
Stephen Haw
By Amy (Guest Post)
December 27, 2006
2

found this helpful
Im doing this right now.
Im only 15 and its not going to take to much building work as its just a chill out room.
Im just going to lay carpet down, Get a sofa, and put posters up.
Could be great :)
How about asking your teenager their ideas?
By Dan Dan the Drywall Man. (Guest Post)
January 19, 2008
0

found this helpful
I just finished a brick garage to a family room...we knocked every other brick out along the edges of the garage door openings and finished it off with two nice windows....awesome!
By Sundar (Guest Post)
September 10, 2008
0

found this helpful
I am thinking about converting the third car garage into a rec room. How much it would cost and how long it would take? Will it add value to the house than keeping it as a 3rd car garage?
Answer

this Question
Does anybody have any thrifty ideas for changing a garage temporarily into a guest bedroom? It's not that cold where we live and basically all the heat we lose would be through the garage door. Does anyone know of any way to insulate the garage door and still allow it to open if needed?
Thanks.
By Tammy from Tillamook, OR
Answers

November 30, 2000
0

found this helpful
A cheap suggestion for insulation the garage door would be to put up a curtain rod or string across in front of it, (of course allowing for working room) and then put up some heavy curtains (drapes) or even quilts/ bedspreads etc. This will block off the door insulating the room but will also allow for privacy when the door is open.
Fiona

November 30, 2000
0

found this helpful
To insulate a steel garage door, buy the rolls of insulation at your local home store. Unroll and cut to fit across the length of the door placing the paper side towards you. The insulation will fit into the "grooves" on the back (or inside) of the steel door. My dad did this and put wire across the insulation every so often to hold it in. His door still opens because the insulation is approximately the same width as the inside section of the door once the wire is put in. You could probably also use twine or string in place of the wire.
Susan - Texas
By jose zapata (Guest Post)
December 6, 2004
0

found this helpful
deciding what types of heaters to use during the winter season.plus what to use for a divider for half of use of the garage. also have very cold cement floor

December 6, 2004
0

found this helpful
Hello Jose,
We added this as a new request:
Answer

this Question
I'm trying to decide what types of heaters to use during the winter season. Also what can I use for a divider for half of use of the garage. We also have very cold cement floor. Any help would be appreciated.
-Jose Zapata
Answers

December 7, 2004
0

found this helpful
I don't know of any kind of stand-alone heater that is safe to use indoors except space heaters. I hear they can be quite expensive to operate, though I don't really know what "quite expensive" means. An electric blanket or mattress cover may be a more economical choice in the long run, since you're heating only the bed, not the whole uninsulated garage. They can be pricey up front, but don't cost that much to operate. Don't buy them used unless you know they're only a few years old; old ones (~10 years) can be fire hazards.
As for the floor, this isn't the classiest solution, but definitely cheap. Find a carpet store and check in back. They may have discarded old carpet near their dumpster. Some of it will be dirty and gross; some of it will be generally fine. Run duct tape around the edges to keep it from unraveling (they make it in several colors now, including transparent). Insta-rug.
For a divider, if all you want is a privacy screen, check thrift stores for old sheets. They'll be dirt cheap. If you've got a sewing machine, you can sew one edge over to create a sort of tube along the edge; a number of safety pins can also work. Run a clothes line or something like it through the tube and tie it off so it makes a curtain. For better privacy, sew or pin the edges of adjacent sheets to each other.
Zannie
By elva (Guest Post)
December 7, 2004
0

found this helpful
you could use a kerosene heater. also put thick capeting on the floor.
By txdesignerd (Guest Post)
July 20, 2007
0

found this helpful
I've converted my parents 3-car garage into a living space while I'm finishing up school and to section off the storage corner, i mounted 1/2 inch electrical conduit from the ceiling using hooks w/ toggle bolts ($2 each for 10 ft. lengths of conduit and super sturdy). Then I found a 6-pack of full sized white sheets at the local price club and they were made w/ hems on both ends that are open ended and big enough to slide the conduit through like a curtain rod so I didn't even have to sew anything. The conduit hangs about 1 1/2 inches from the ceiling and at that height the full length sheet puddles a little on the floor but not so much that it looks sloppy. The conduit is awesome also if you want to hang art from picture hanging wire and hooks attached to the rod. I curtained off 2 corners of the garage for a total cost of $50 including all the hooks, sheets and conduit and it looks awesome, very loft like and not at all garage-y any more!
Answer

this Question