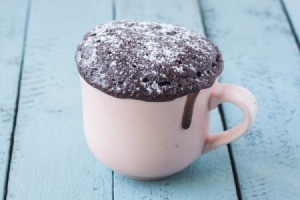 Can anyone tell me how to adapt a cake recipe made for cooking in the oven, to cooking it in the microwave? Due to egg allergies, my cakes are always recipes that are eggless and are very successful when cooked in my conventional gas oven. However, gas here has now doubled in price, which makes cake baking a luxury. I would prefer not to do without my cake fix! The only eggless recipes that I have found are chocolate and I love fruit cake and plain white cake. Please, can anyone help?
By cettina from Malta, Europe
Answers

(Guest)
Gold Post Medal for All Time! 846 Posts
October 6, 2010
0

found this helpful
Best Answer
Cett, I did a lot of searching and unless it's a store bought cake mix that has egg alternatives with microwave instructions and using special microwave pans for baking I think you would have a disaster waiting to happen on your hands trying to adapt a regular recipe :-(
I know this might sound strange but if you could simply splurge a little bit and bake a white cake what you could do is put a slice of baked white cake in a bowl, top with some canned fruit and some syrup from the canned fruit on top and microwave for a minute or two. It really does taste good and is comforting! I do that, usually using peaches.
Another thing you could do is plan ahead and bake the cake just before or after baking another meal where you would be using less gas for baking because of the preheating time?

October 7, 2010
0

found this helpful
Best Answer
If you have an electric skillet, all you have to do is mix the cake according to the directions & place in your cake pan. Then, take four dinner forks, & place in the skillet, two on each end of where the pan will sit, this makes a rack for the pan to sit on. Then turn your skillet on 350 degrees, or whatever the cake mix says, put the lid on & time your cake just like if you were using the oven. I have done this many times when my oven was broke. The cake always turned out just the same as if I baked it in the oven. Hope this helps.
WandaA

(Guest)
Gold Post Medal for All Time! 846 Posts
October 7, 2010
0

found this helpful
Best Answer
Cett, I just found a link regarding egg substitutes for baking and it gives a few choices, one being pureed fruits. ;-)
www.buzzle.com/.../egg-substitute-in-cake.html

October 7, 2010
0

found this helpful
I am wondering if you could use a crock pot to bake a cake. I have a friend that bakes her cakes in a cast iron skillet on top of her stove in the summer to avoid heating up her kitchen.
Good luck.

October 7, 2010
0

found this helpful
Hmm, the skillet baking seems like a feasible idea. How would I go about finding an eggless recipe for a cake, I wonder? Does anyone have a successful recipe?

October 8, 2010
0

found this helpful
Thank you so much Deeli. That link opens up a whole new wider range of microwave cake recipes for me! All I need to do is substitute something else for the eggs and I'm good to go!

October 10, 2010
0

found this helpful
My very favorite cake recipe is this: 1 cake mix any flavor, 1 diet soda any flavor. Combine --use only the baking directions on the back of the box, do not add anything else.
You can do this with a microwave: bake in the microwave using a Tupperware Rock N Serve or Heat N Serve container. 8-10 minutes on high power!
I usually add the cool whip frosting: 1 cup milk, 1 8oz pkg cool whip, 1 t vanilla and a small pkg any flavor instant pudding mix. Refrigerate after frosting. My favorite is chocolate fudge cake with either white chocolate or coconut cream pudding for frosting. Good luck.

October 11, 2010
0

found this helpful
WandaA, your suggestion is interesting. I don't have an electric skillet, but I DO have a large cast iron skillet. I'm wondering if I can use the same system that you suggest, and just preheat the skillet over a low heat before I put the pan with the cake batter into the skillet.
Sounds like a really good idea. Thanks! The only way to find out if it works is to try it out.
Answer

this Question