Does any one know anything about making collard greens. I had them once and they were very good. Now I want to make them.

Thank you,
Joanne from Kingston, PA

Answers:
Collard Greens Recipe
Here in the South we cook our collards (cut up) by covering in water adding 2-3 slices of bacon and cooking on top of the stove until tender. You can also stir-fry them if they are young and tender. Fry your bacon in skillet. Take bacon out and cool on paper towels. Place chopped up collards in skillet in bacon grease. Stir-fry until tender then pinch up bacon and sprinkle over collards. Enjoy with some good cornbread!! (07/25/2006)
By Mona
Collard Greens Recipe
This recipe has been in my family for years. Us Texans can't get enough of these.

Ingredients:
2-3 smoked ham hocks
2 cups water
3 lbs. collard greens (you can substitute or mix in turnip, dandelion, mustard, beet greens or kale)
3 cups beef broth, homemade or canned
1 Tbsp. cider vinegar
1 tsp. granulated sugar
1/8 tsp. hot red pepper flakes, crushed
Directions:
Bring the ham hocks and water to a boil over high heat in a large kettle. Reduce the heat and simmer, covered, for 1-2 hours, or until the meat is falling-off-the-bone tender.

Wash the greens thoroughly under running water to remove grit. Discard the stems and chop the greens coarsely.

Increase the heat under the ham hocks to medium-high, and add some of the greens to the pot. Cover, and let the greens wilt, about 5 minutes; stir the greens down. Repeat the process with more batches until all the greens fit into the pot.
Stir in the broth, vinegar, sugar and red pepper flakes, and bring to a boil. Reduce the heat to medium-low and cover partially. Cook, stirring occasionally, until the greens are very tender, about 1 hour.

Eat hamhocks right along with the greens, or remove the meat from the bones, chop, and stir back into the greens, discarding the bones. Serve with hot sauce on the side. The pot liquor can be used as a dip for hot cornbread.
(07/25/2006)

Collard Greens Recipe
Wash the greens and strip them off of the thick stem. Tear them into desired size. Place in a large pot (tightly) and cover with water. Bring to a boil and then turn down to a soft boil, cover and cook until desired tenderness. About half way through you need to add flavor such a ham, bacon or sometimes I use ham soup base found in the soup section at your grocery store.
Check for flavor when greens are done then add a little vinegar to taste.The lady who shared this recipe some times puts a little oil in to help with the vinegar /oil flavor. (07/25/2006)
By Candi
Collard Greens Recipe
Savory Mixed Greens
15 oz can greens (collards, turnip, mustard, kale or mixed greens)
1 Tbsp. margarine
2 Tbsp. vinegar
1/4 tsp. salt
1/8 tsp. pepper
1 tsp. sugar or honey
1 tsp. dry onion
Open up the greens. You can use any type of greens that you like. You could use spinach too, I guess, although I never have. Turnip and Mustard greens are my favorite, but the others are quite good too. So anyway, open up the greens and put them into a quart size sauce pan. Add the margarine, vinegar, salt, pepper, sugar and onion. Stir it up, coating everything evenly with the seasonings. Put the lid on the pan and bring them to a boil. When they boil, reduce the heat and simmer over low heat for a few minutes to blend the flavors. Good eatin', southern style.
http://www.hillbillyhousewife.com/mixedgreens.htm (07/25/2006)

By Mary
Collard Greens Recipe
I am southerner with a new and improved way of cooking my greens:-) Since I can't stand to watch a pot on the stove, I use my crock pot. This is a long reply, but once you read it through, you'll find that it's really rather simplistic (I'm just rather verbose - LOL).

I begin by placing several pieces of smoked turkey in the crockpot (on high) with about a cup of water for several hours until tender. You can use smoked turkey wings or smoked turkey necks. (NOTE: I remove the meat from the bone once it's cooked, so the turkey necks seem to be easier to deal with. Not to mention, there's less fat.)

Once I put on the meat, I clean 1-2 bunch of collards, removing the large stems. I prefer to slice my greens thinly (like cabbage) as opposed to tearing them into pieces or leaving the leaves whole. Since the meat takes about an hour (time may vary for you), I place my cleaned greens in the fridge until the meat is done.

Before adding the greens, I remove all of the meat from the crock. I have a small crock which means I have to add my greens in batches, but the end result is worth it. After all the greens are in the pot and have been cooking for about an hour, turn the setting to low, add 4 tablespoons of margarine, 2-3 teaspoons of sugar (or 1 pack of sweetener), stir the greens and let them cook until tender. Just before serving, add the meat to the greens and let them cook another 15-20 minutes on high.

I have cooked greens for some diehard collard connoisseurs and they have been thoroughly satisfied. There's less fat and no need to add anything to them (unless you want to).

One more thing, collards take less time to cook when they're young and tender at the beginning of the season. As time goes on, you'll find that they will take longer.

Enjoy! (07/26/2006)

By Antoinette
Collard Greens Recipe
Spicy Collar Greens - recipe

2 Tbsp. olive oil
1 large onion, diced
2 cloves garlic, pressed
1 tsp. salt
1/4 tsp. tabasco
1/4 tsp. dried red pepper flakes
1/2 tsp. sugar
2 1/2 lbs. collards, rinsed well and stripped from stems
In large stockpot, saute onion and garlic in olive oil until translucent. Add salt, red pepper flakes, Tabasco and sugar; mix well. Add about 3 cups water. Add collards. Cover.
Cook over medium heat for about one hour, stirring occasionally. Add water if needed.

"Collards, collards, collards,
Boiling in a pot,
With backbone, ham or fatback,
and pepper red and hot.
Of all the vegetables, leafy and green,
Collards are definitely the queen.
Collards taste fine with cornbread and sweet taters. That combination will satisfy the best of debaters . . . "
Colleen Bunting

"Leaves of Green: The Collard Poems"

Hope you like the recipe, our family does! (07/26/2006)

By SATellite88
Collard Greens Recipe
I buy a bunch of Collard Greens, wash and lay on newspaper. Place several leaves on top of each other and cut the middle vein out, do all the leaves (get rid of these). Cut the leaves into pieces and place into your pot. Cover with Swanson's Chicken, Chicken and Garlic, Or the Veggie one. We like Swansons Chicken and Garlic flavor. You should buy the Carton Size, maybe 2 depending on how many Greens you have, just to cover them. Boil and then turn down to low until done.

No need to add water. (07/27/2006)

By .Sherry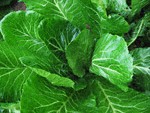 Collard Greens Recipe
SAVE ALL THE POT-LICKER JUICE, freeze in individual quart zip-lock baggies for when anyone seems to have the flu. It's how the slaves who were deprived of good foods survived! Use as soup base, hot "toddy", or add to cooking water of anything from corn on cob, to mixed veggies or rice. Yummy for the tummy.

Note: don't ruin Collards with too much salt or grease ANYTIME. (07/30/2006)

By Lynda
Collard Greens Recipe
Well I'm a little different. I clean the collards really good. I use kitchen shears to cut them then I use smoked pork neck bones and smoked turkey necks, college hill chicken broth. No water. Red crushed pepper, Lawry's seasoning salt, vinegar, hot sauce, onion powder, garlic powder, And cook on med heat. Boil the meat first and let it all cook together.

Yummy, I have no complaints. (11/25/2008)

By niki
Collard Greens Recipe
I put chicken bouillon cubes or beef cubes in all my greens and anything else that needs it, no meat needed. (02/23/2009)

By k w