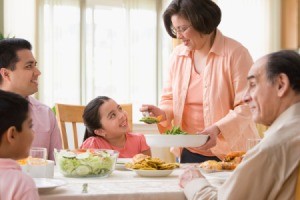 To save money on groceries, you could find one or two families who you know are very busy and either eat out a lot or order in a lot. See if they would be interested in having you make meals for them.
The key is they buy enough groceries to make enough for their family and yours. I find if you're making a meal anyways, it is very easy to double it.
I personally make meals for two separate families. One family I will cook for two days a week and the second I will cook for the remaining three days, with the weekends being leftover days.
Then on Fridays, I sit down and make up the menus for the coming week and the ingredient list for both families. They go buy the food and drop it off to me for the week.
So far, I have cut my grocery bill from $120.00 to $50 per week. The families I cook for have said that this actually saves them money to as it's cheaper than eating out.
By Vicki from Nanaimo, B.C.
Comments
Read More

Comments