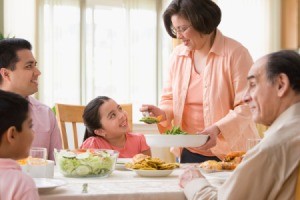 To save money on groceries, you could find one or two families who you know are very busy and either eat out a lot or order in a lot. See if they would be interested in having you make meals for them.
The key is they buy enough groceries to make enough for their family and yours. I find if you're making a meal anyways, it is very easy to double it.
I personally make meals for two separate families. One family I will cook for two days a week and the second I will cook for the remaining three days, with the weekends being leftover days.
Then on Fridays, I sit down and make up the menus for the coming week and the ingredient list for both families. They go buy the food and drop it off to me for the week.
So far, I have cut my grocery bill from $120.00 to $50 per week. The families I cook for have said that this actually saves them money to as it's cheaper than eating out.
By Vicki from Nanaimo, B.C.
Comments
By Ann (Guest Post)
December 8, 2008
0

found this helpful
Top Comment
I Love the idea. This fall I offered to cook one night a week for some friends of my who have four children I don't have any and enjoy doing and it helps them out plus I have a meal for my husband and myself. Everyone wins!! Great idea to share

January 8, 2010
0

found this helpful
Top Comment
What a great idea Vicki. I'm retired and love to cook and I often take meals to my two neighbours/friends. My children also drop by and pick up meals. I'm not sure how I would approach my neighbours to contribute to the grocery bill.
They have never asked me to do this for them, but I know they really appreciate it; especially coming home after a busy day at work. I'll have to think on that one.

January 9, 2010
0

found this helpful
Top Comment
Thats a great idea everyone wins! I do something a little similar. I work in an international school in Europe where everyone, by law, gets a lunch allowance paid.
I grow my own vegetables and salads and make my own and 2 other lunches. I pay for the ingredients for 3 for the price of 1! Its worth about $100 dollars a month which I spend on seeds and supplies for my gardening.

January 9, 2010
0

found this helpful
Top Comment
What a great idea! I send out newsletters to about 300+ people and this is a good tip to give them. I love to cook and do most of it on the week ends and then freeze portions to reheat during the week.
Thanks - Patty
Read More

Comments