I have purchased chicken at the deli, it is usually a whole one roasted on the spit. Our first meal is to eat the roasted meat. Then I cut the meat from the bone, and use it in two other meals: one is a chicken pot pie and another is a stir fry. I feel that I get my money's worth and there is nothing, but bone left to go into the garbage.
By Denise from Tuscola, IL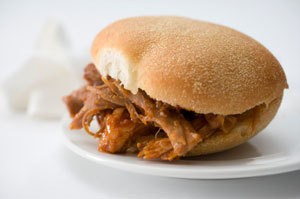 Since being a mother, I have found that there are so many ways to save. One of my favorite is by never wasting food. I love to reuse my left overs but in different ways. Even though we are having the same food it is different. Here are a couple examples:
Make a roast one night. The next you could either make pulled pork out of the left overs or even lasagna. You save by not having to spend so much in meats and you always make sure that your left overs are used.
By Teresa L S. from Campbellsville, KY
When planning your grocery shopping trip, use coupons, but also read the ads carefully. General Mills will put on a special with their cereal and cereal bars.
They had the box of 8 bars 2/$5. If you bought 4 boxes, $10 total, you got $4 back at the register.
Read More...
April 22, 2004
0

found this helpful
When it comes to saving money on groceries, planning makes all the difference! Planning your family's meals can not only save you money, but time and effort as well.
Post your ideas for saving money on meals below.
Answers
May 23, 2007
0

found this helpful
I would like to have a sample dinner idea without any meat. We are not vegetarians, but we think skipping meat one dinner a week would help our budget. What do people serve without the main course being meat?
September 3, 2007
0

found this helpful
Lasagne or spaghetti w/o meat is good. When my kids were younger they never even noticed the difference but since I re-married he wont even consider a meal w/o meat. I think I will start cutting the meat in spaghetti in half and see if he notices. I don't think he will.
My biggest challenge is that he is lactose intolerant so I can't cook a lot of things that I use to be able to do. makes it very hard on me.
How about some homemade mac and cheese? That is good w/o the meat.
November 21, 2007
0

found this helpful
I just make a big pot of refried beans. Just take a bag of pinto beans and soak them over night. Next morning drain water and add water,stick of butter,taco seasoning and simmer all day.
Then you just mash and you have yummy homemade meatless meals for that night and in the freezer. makes very good filling for tacos. My husband loves meat and he never misses it with this meal.
November 27, 2007
0

found this helpful
A lot of dishes my mom makes are without meat, not because we're vegetarians either. lol She makes what she calls, stuffed shells. You buy pasta shells ..sauce ..ricotta cheese and mozzerella. Boil those shells like spaghetti and stuff them with the cheese mixture along with one egg. She bakes this for about an hour I think, covered with foil. It's really good..
January 16, 2008
0

found this helpful
Greetings! Heres a small tip for small fries learning to self feed. Finger foods for toddlers are $$$$$, so try the canned food section. You can get low sodium varieties of just about everything now, and even the veggies are softer and already cut up for tiny fingers.
Chicken noodle soup ( w/o broth ) is my twins all time favorite right now.
By Anita in Canada (Guest Post)
July 11, 2008
0

found this helpful
Talk to your co-workers and neighbours to buy in bulk. There are local farms that sell sides of beef, and we get together and split them. Way cheaper, and we know where it comes from!
Also, this past Jan. I bought a pressure cooker. It makes the meat so tender. I dont use the small 1-2" cuts or steaks anymore (more expensive at the store). I've found that using the roasts and larger pieces of meat are excellent in the cooker. Its also really good for ribs (off the bone!)- and quicker to cook too. The best investment I've made.
By suzin (Guest Post)
January 11, 2009
0

found this helpful
Cooking meals without meat will save quite a bit. One thing I do is I make bean burgers. Mix chunky mashed up cooked beans with cooked rice 1/2 and 1/2 each, be sure they have been drained and are not soupy. Add some chopped onion and celery. Season to your taste, then add an egg, or you could add breadcrumbs or corn starch; anything that will bind the ingredients together to form into patties. You can coat the patties with flour if you like. Then fry them till golden on both sides.
May 3, 2011
0

found this helpful
We often do a meatless meal at least once a week. We use beans, soups, eggs, and pasta meals. Soups can use a meat broth and lots of filling vegetables to be satisfying and served with a salad and a crusty bread, you will feel very satisfied with this meal. A hearty bean soup, again, I use a powdered meat flavor for the base to make my husband think meat had been used, and the beans and onions and carrots and celery give a filling meal. Tacos, enchilladas, and any type of wrap are good with beans as your base. I love scrambled eggs with lots of chopped up veggies and a lowfat cheese in them.
You can make omelets, but I find that they are just as well loved as just scrambled eggs with vegetables and cheese. Add a potato patty or some home made home fries with onions and peppers and your meal can be complete. Be creative and see what is acceptable to your family. They may have ideas as well. We even do an omelet pizza, no not a breakfast pizza with eggs; we have no crust. We put many beaten eggs into a well greased pan with anything you would put on a meatless pizza (yep, even tomatoes and broccoli if you so like) we let them cook and start to set up without stirring and then pour on some pizza sauce, sprinkle on cheese and put a top on it all to melt the cheese and warm through the sauce. It's very good. Serve in the frying pan and cut into wedges just like a pizza!
Answer

this Question

...
For some reason this month FoodTV is doing a lot of recipes that are economical. Even if you don't have cable, go to Foodtv.com. One recipe I tried and was excellent was Osso Bucco Stoup (thick, but not too thick). I figured it costs about $6.00 for approximately 10 adult servings. It can be found in the show "30 Minute Meals". I know it aired at least on 2/26/05, but other times too, I'm sure. If you don't find it, I'm happy to submit it.
CJS in Maine
Answers
May 11, 2005
0

found this helpful
Food Network is great! In addition to 30 Minute Meals, there's a new show with.... I believe his name is Dave Lieberman, about great low cost cooking. (cooking on a budget).
Answer

this Question

...