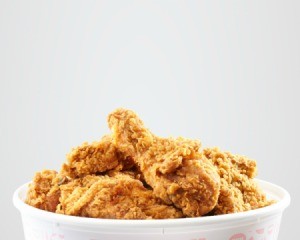 Found this at "The Cooking Nook".
Ingredients
1 whole chicken, cut into pieces
2 - 3 eggs, beaten
3 - 4 Tbsp. oil for frying
Coating Mixture:
2 cups flour
4 tsp. paprika
2 1/2 tsp. salt
1/2 - 1 tsp. pepper
1 tsp. poultry seasoning
1 tsp. thyme
1 tsp. oregano
1 tsp. tarragon
1/2 tsp. garlic salt
1/2 t. onion salt
1/2 tsp. celery salt
Directions
Mix together all the coating ingredients and place in a clean plastic bag. Dip each piece into beaten egg, then into the flour mixture in the bag. Coat the chicken completely with the flour mixture.
Place the oil in a skillet and heat. Brown the chicken in oil slowly (225 degrees F, if you are using an electric skillet), uncovered. Cover the skillet and continue to fry at a very low heat until the chicken is fully cooked, approximately 1 hour.
Drain well on paper towels.
Tips and Variations:
This recipe can be prepared using a deep fryer and is actually perfect for the fryer. Follow the directions on your fryer. Make sure your oil is hot before adding the chicken. The chicken shouldn't be greasy when it is cooked in hot oil, but if the oil is cool, it will absorb the grease.
By redskin. from Brockville, Ont., Can.