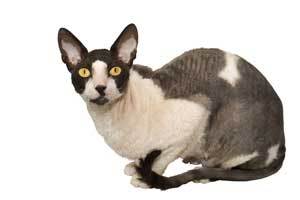 Breed Description:
The chic-looking Cornish Rex is easily one of the more striking cat breeds. They have long, narrow heads, large, flared ears, and an expressive face. This medium-sized cat is muscular, but slender and fine-boned. Their backs have an upward arch that ends in a long, thin, slightly tapered tail. The Cornish Rex has a soft, curly coat that is velvety to the touch and hardly sheds. They are intelligent and affectionate, and seem curious about everything around them.
History & Origin: This breed originated in Cornwall, England in 1950. It was a happy accident. A kitten named Kallibunker was born with a mutated gene that caused curly hair. The kitten later served as the one of the founders of the Cornish Rex breed. Over the years two types of the Cornish Rex have emerged-one European and one American. They share similar basic characteristics, but differ slightly in conformation and the shape of their heads.
Character & Temperament: The Cornish Rex makes a delightful companion. Ever curious, this breed of cat can be more easily trained to perform various tricks than most other breeds. An amicable and docile breed, the Cornish Rex gets along well with dogs and cats. They are patient and slow to anger, making them good companions for households with children. This breed loves attention and would prefer the company of another pet rather than being left along.
Color: This breed comes in most colors and patterns. The most common are solid colors or Tortie patterns with or without patches of white.
Coat Type: Shorthair; The Cornish Rex has a soft, curly coat that is velvety to the touch.
Grooming: The Cornish Rex's short coat can be brushed weekly with a soft-bristled baby's brush. Claws should be trimmed and ears cleaned only when necessary.
Health Considerations: The light coat and lack of protective guard hairs on this breed make it more susceptible to extreme hot and cold temperatures.
Trivia: Because the Cornish Rex's coat lacks guard hairs, it produces less dander than other breeds and makes it a better choice for people with pet allergies.