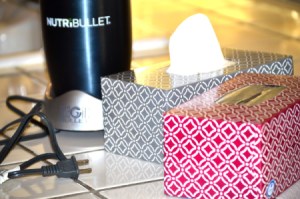 I have that pet peeve, like many do of not liking cords showing when a kitchen counter appliance isn't in use, and I don't have room in the cabinets as they're already packed with other things.
And when I have a small kitchen appliance that I use quite often, I don't really want to put it away after each use either because that too becomes a pain of digging it out, and then putting it back when I'm done with it.
And I like the printed designs on Kleenex boxes, they're almost too cute to throw out. I'm sure this sounds like "what" in the world does Kleenex boxes have to do with kitchen appliance cords?
Well, when the tissues are used up, I cut the side of the box off and use the cute printed wide strip as my "cord holder".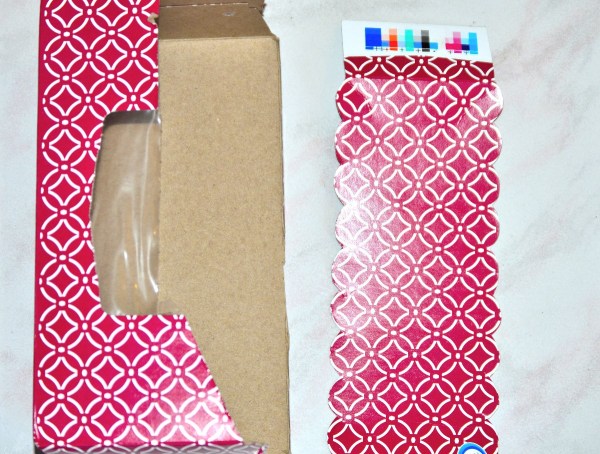 That way, every time a box of Kleenex is gone, if I want, I've got new designs for my cord holders. These simple 'cord holders' keep my cords neatly behind the appliances, and they don't have that "TP roll" look to them because of the designs on the tissue box cardboard.
First I cut off either side of the box. Then I rubber-band my cord together to see about what the circumference is-how much of the side of the box I'll need, and I cut that.
I sort of scalloped the edges/sides on this one when I cut it, as I had the pattern on the design to follow. Just depends on what the box design is, plus, if it's not straight across on the ends, it makes it easier to grab out the cord when I need it and wind it up and put push it back in to hold it.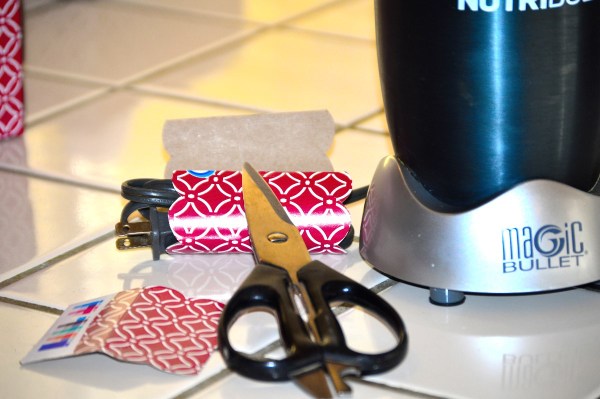 I used a glue gun to glue it. Make sure it's not too tight, you want it where you can just wind up your cord, and easily slip it in. And that's it.
I actually stand up the "cord holder" behind the appliance so it doesn't show, but when it does show - I like the cute little design that holds the cord together so it's not as annoying as seeing "the cords" just wound up and held with a rubber band.