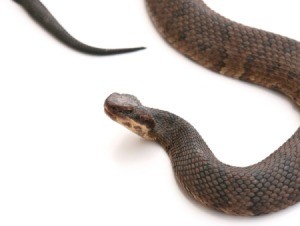 I live in a small neighborhood in Southeastern Louisiana not far from the Mississippi river. This morning I was going to take my bath and I discovered (or at least my cat did) a black snake curled up by the tub. I didn't touch it!
I turned off the light and called for help. My uncle came and killed the snake which he said was a cottonmouth because it spit venom when he hit it. The snake also jumped when he hit it the first time.
I have a 8 month old baby and I am very worried that there are more snakes where this one came from. I don't know how this thing got into my bathroom or how long it had been in my house.
Should I be concerned that there are more? Do they travel in
packs? Do these things lay eggs or have live births? And if they
do, do you think there are more in my house lurking around. I
can't even take a bath without looking on the floors.
I live in a house that is up off of the ground. I have never seen a snake in my neighborhood or in my yard and I have lived here for almost 31 years. If you have any advice please let me know.
Aimee Legg
Answers
By sandy (Guest Post)
June 16, 2005
0

found this helpful
Best Answer
your county or spca or animal control should be able to put you in contact with someone. beings you live in louisana- i figure you may have some swamp nearby. in florida their were trappers-people that caught wayward animals.i often saw these people near my home but i never saw any animals that were unwanted except a lizard.
June 16, 2005
0

found this helpful
Best Answer
It depends on if you have a septic system or a sewer. It might have traveled thru the sewer lines and came thru your tub or toilet. We're not sure about cottonmouth snakes, but copperhead snakes travel in pairs. If I were you, call an exterminator or someone to come check out your home. I wouldn't rest very good until I had it done. Check all windows & doors for cracks & either fill or repair them. If you have a doggie door, these snakes can come thru there, too, as well as other critters. Put stoppers in all your sinks (in every room) & bathtubs at night before going to bed (be sure to turn off any drips, first). Close toilet lids when not in use (day or night). Have someone check your heating and a/c under your house for any holes, so nothing can come thru the vents. Just remember anywhere a mouse can get in, a snake can, too!!!
A friend of mine, last year, found a snake in her bathroom. He'd crawled around several places in her house as she'd noticed several things moved on different occasions (just her and her hubby live there). When she asked her hubby why he'd moved certain items, he'd replied, "well someone did & if it wasn't me and it wasn't you, who was it?" They figure the snake had been in their house for at least a couple of weeks! She found it when the snake's head was peaking out of some artificial greenery she had in and around her bathroom. She, too, called her grandson for help, even though she wasn't afraid of it.
By ronsan (Guest Post)
June 16, 2005
0

found this helpful
Last year, I saw a very large black snake (harmless) in the yard and beat feet immediately up on our raised concrete "deck" area. Those still by the snake said it took off quickly also, but later that night when I went out the back door from the kitchen onto the deck, there was that same snake on the brick kneewall curled up around 2 plastic milk jugs I had filled with water. I don't know how that snake got into your house, but I can guarantee you that snakes have the ability to crawl and climb up concrete steps and brick! My son said that the snake, which was more than 4' long, most probably just "snaked" its way or crawled right up the brick onto the concrete surface of the deck and that is more than 5' tall. He also told me snakes can compress their bodies to get in spaces less than 1", so now I make sure the screen doors fit tightly into the jams with no gaps at all.
We live about 8-1/2 miles out in the country on a farm so I shouldn't be surprised to see a snake, but it scared the daylights out of me!
June 17, 2005
0

found this helpful
You have my sympathies.
Hope you solve this situation quickly and easily.
My DH is from CT and he said they always kept the commode lids down because of a similar situation. It seems to be a universal predicament.
Holly
Read More

Answers