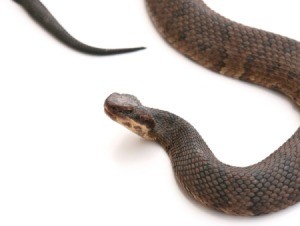 I live in a small neighborhood in Southeastern Louisiana not far from the Mississippi river. This morning I was going to take my bath and I discovered (or at least my cat did) a black snake curled up by the tub. I didn't touch it!
I turned off the light and called for help. My uncle came and killed the snake which he said was a cottonmouth because it spit venom when he hit it. The snake also jumped when he hit it the first time.
I have a 8 month old baby and I am very worried that there are more snakes where this one came from. I don't know how this thing got into my bathroom or how long it had been in my house.
Should I be concerned that there are more? Do they travel in
packs? Do these things lay eggs or have live births? And if they
do, do you think there are more in my house lurking around. I
can't even take a bath without looking on the floors.
I live in a house that is up off of the ground. I have never seen a snake in my neighborhood or in my yard and I have lived here for almost 31 years. If you have any advice please let me know.
Aimee Legg
Answers
Read More

Answers