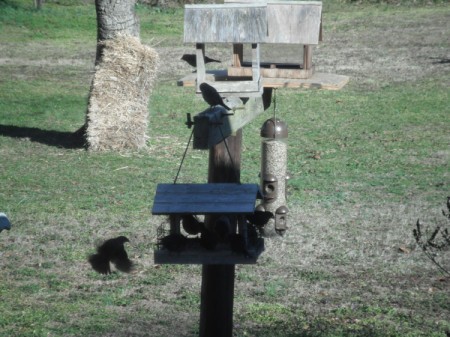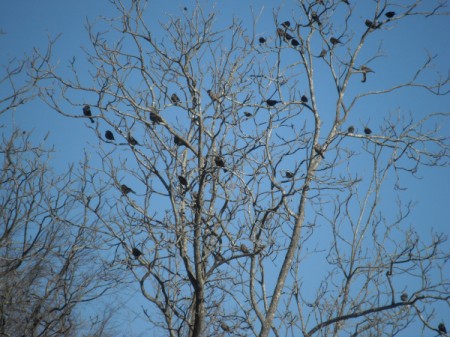 Photo Description
I am having a problem being able to feed my song birds like I have in the past. Usually during the winter months, I've had no problem with cowbirds, but this year, they have been a real pest.
Cowbirds are brood parasites. They don't hatch their own eggs. They lay their eggs in the nest of other birds and sometimes destroy the eggs of the other bird. A female can lay about 40 eggs per year. Their population is increasing.
To feed the pair of cardinals that visit every day, I put just a little bird seed in the large feeder in the morning and watch the feeder. If the cowbirds come, I scare them away.
I keep the finch feeder full of a premium finch food. Except for the woodpecker, the large birds can't get to the seed in this feeder. Other than the woodpecker who helps himself, I enjoy watching the gold finches, chickadees, sparrows, house finches, tufted titmouse, and the nuthatches. They all love the Premium Finch Lovers Blend I get from Walmart. It's expensive, but well worth me being able enjoy my bird watching.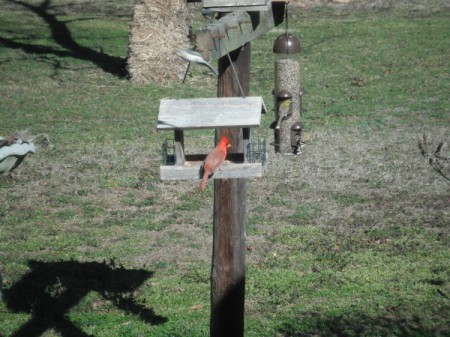 Add your voice! Click below to comment. ThriftyFun is powered by your wisdom!