May 2, 2007
0

found this helpful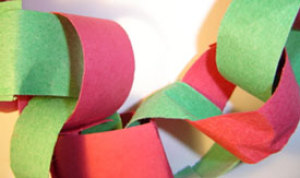 Colored construction paper! This is affordable almost anywhere you get it and it usually comes in a rainbow of colors.
Artwork and Photo Frames
I match the kids' artwork (from simple scribbles to masterpieces) with a coordinating sheet of construction paper and mount it in a variety of ways. Sometimes, I just cut the construction paper in a square with just enough bordering the picture to make a frame. Other times I use decorative scissors to make a unique frame in one color and glue this to a square construction paper in another color. You can also use color themes like black and white, earth tones, pastels, and so on.
By Sandy
Children's Hand Wreath
For a fun craft for my four-year old daughter, I traced her hand, then cut out lots of copies from construction paper. Then I had her glue them to a round circle (cut from an old cereal box) to make an adorable hand-wreath. It was so cute and will be so neat to look at when she gets older to see how small her hand use to be.
By Crystal
Other ideas:
Mounting computer or hand printed chore charts on construction paper, laminating, and hanging on bedroom wall or in family's message center.
Using as color mats for index cards when memorizing Scripture, establishing daily habits, and/or using in journaling.
Placemats. We made these one year and they held up quite well with some laminating.
Enjoy coming up with creative ways to use this affordable paper in your home!
By Sandy
Paper Chains
You can also use construction paper to make Christmas tree garlands or streamers to use as decorations at a party. Just cut the paper into strips and tape them together to make a chain.
Share your ideas!
Do you have any craft ideas using construction paper? Post them below!
July 31, 2006
0

found this helpful
I am a crafting and paper-craft nut but when I sit down to create, I end up with paper everywhere. Short of having the garbage can underfoot constantly, I came up with a better idea. I cut a large circle out of a coffee can (leaving the rim of the plastic top intact) then put a doggie poop bag inside the can and put the top back on the can. Now I can have a smaller garbage can close at all times and when the can gets full, I just remove the bag, tie it up and toss it in the garbage can. I then replace with another doggie bag and I am ready for more creating!
By Sue from Chesterton IN
December 1, 2011
0

found this helpful
Is there a way to or some product you can apply to construction paper to make it stiffen up a bit, like you'd apply starch to make fabric stiff?
By Cathy
Answers
December 2, 2011
0

found this helpful
Have you tried Mog Podge? Its a sealer, glue and finish all in one and does make whatever you put it on stiffer.
December 7, 2011
0

found this helpful
You can also use diluted white glue to varnish and stiffen paper. You'll have to experiment to get the right dilution formula for your particular application, I usually go with one third water to two thirds glue in a recycled jar, and paint it on with a craft paint brush.
Answer

this Question

...