Does anyone have info on how to pound flowers?
Thank You
Angie
Answers
February 23, 2006
0

found this helpful
Best Answer
I pound flowers at a science themed summer camp for children.
It would help if I knew what you wanted to use the flowers for.
This is how we do it. We take a sheet of plexiglass and set it on an even surface. plastic wrap and set the flowers on the plexiglass. We then take plastic wrap and cover a rubber mallet. I try to make sure the wrap is as smooth as possible. The wrap is optional if you dont intend on using the hammer for anything else. The I tell the kids to pound away. Sometimes we put cloth or hats on the glass and place the flowers on that. If the kid can get a clean hit the imprint of the flower will be dyed into the fabric. If the child misses a bit it still makes an interesting tie-dye effect.
Answer

this Question

...
August 9, 2005
0

found this helpful
Craft ideas using dried leaves and flowers. Post your ideas.
Answers
January 28, 2005
0

found this helpful
When dead heading your plants, don't let the pretty leaves and flowers go to waste. Press them in a phone book or in a heavy book.
Use them to embellish tags or cards or my favorite is to put them in an IKEA frame and hang them up. Makes a unique picture.
By SK
January 29, 2005
0

found this helpful
Make paper. Save all of your junkmail, even the envelopes. Shred only the paper stuff into a blender. Add water and your dried flowers and leaves (even potpourri). Blend really good. Set up a deep dishpan with a window screen over it. Pour the blended mixture onto the screen (you don't need a mold), make a square or heart shape. Press with a sponge. Get out as much water as you can, then lift gently off the screen and iron. Voila! Paper.
August 9, 2005
0

found this helpful
I take flowers from my yard (I live in FL and have a lot.) I glue my flowers (after drying them) on frames, mirrors, lamp shades, etc.
By Sandi G (s222)
By Mary Ellen (Guest Post)
August 10, 2005
0

found this helpful
When my kids were in preschool, I helped out with a project.
Using fresh, colorful fall leaves (not dried out), cover them with the waxy side of wax paper. Iron. Cut them out. The wax helps preserve the leaves. We "helped" the kids hotglue the leaves and other nature items (like acorns, etc) on to a cardboard wreath. They turned out beautifully.
August 10, 2005
0

found this helpful
Use the leaves to make impressions in your polymer clay. If you have a pasta machine that you roll your clay in, place the leaf over the sheet of clay as you pass it through the pasta machine. You can also lay it on the clay and roll over it.
September 25, 2011
0

found this helpful
I love fall and seeing the leaves change into beautiful browns oranges and yellows. I also wanted to start a few new traditions with my son. And what better tradition than to make our own centerpiece. So we went outside and collected the prettiest whole leaves and then took one of his old Easter baskets.
We painted it brown, then hot glued the leaves to the outside. Added a few pine needles to the handle. Tomorrow we are gonna go get some fake fruit and glue them in.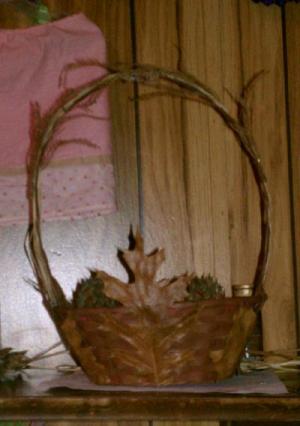 Answer

this Question

...