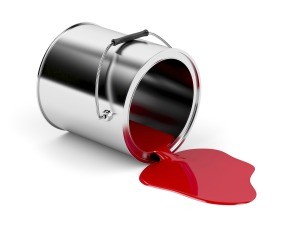 If you have empty cans of paint left after a project, don't throw them away! Turn them into hanging planters.
Take off the lids and let any remaining paint dry, you will not need the lids. After the paint dries, take a nail and punch some holes in the bottom of the can to allow for drainage, otherwise the can will collect too much water and rust.
If the can has a paper label, peel it off and you will have a plain can that you can paint or leave plain. If the product information is printed right on the can, you can spray paint over it to cover.
You can loop the can handle over a picket fence stake, and the can will sit flush against the fence, or you can hang it from a hook. Plant directly in the can, or to make cleanup easier, use large yogurt or cottage cheese containers with holes cut for drainage - the can will hide the plastic container, and you can pop it out easily at the end of the season.
These look especially nice with cascading plants, but you can put anything you like in them.
By Regina from Rochester, NY
Comments
By Ashley (Guest Post)
July 20, 2007
0

found this helpful
Top Comment
What a wonderful idea!:) Thanks a bunch for sharing...I am excited to do this project. We have a section of post fencing in our yard and it looks so plain all of the time so, this is perfect!!!:) Thanks, again!
I would think that they paint would not leak into the dirt and effect the plants since it is dried....BUT if you rinse the cans out really well when empty that also should not be an issue. I know that we had a can in the past that the paint pulled right out when dried with a little coaxing, too. That can was for another project but, still came clean.
Read More

Comments

Recently I spotted some Gallon and Pint sized unmarked paint cans for sale at a hardware store for a decent price. They are regular cans like you get paint in, only all shiny silver, no labels - with the circular press-on lids and the wire half circle handles. What crafts could be made from them? Any ideas? Thanks!
Cathy from Delaware
Answers

March 11, 2008
0

found this helpful
I've seen some adorable cans altered to hold baby or bridal shower gifts. Add some paper and ribbon, and you're all set. Here's one simple example: www.splitcoaststampers.com/.../831268?cat=13130
They're also fun to use to hold "survival kits" - this site has some great ideas (just hit enter to view them all) - www.kimstamps.com/skits.htm

March 12, 2008
0

found this helpful
I decoupaged some and used them for Christmas gifts. I also decorated some and filled them with candy and treats for a buffet table at a party. I think they could easily be decorated and used for Easter Baskets too.
By liz eafa74 AT yahoo.com (Guest Post)
March 13, 2008
0

found this helpful
Lucky girl. You can fill them with bath goodies or nail polish goodies to give as a gift, and decorate the outside of the can with scrapbook papers, there are zillions of beautiful papers out there. Tie a fabulous bow on the handle, and gift you can be proud of! You could even fill the bucket with cookie or fudge ingredients; the possibilities are endless! Have fun!
By amy (Guest Post)
March 13, 2008
0

found this helpful
Yes. Like the others have suggested, you can decorate the outside and fill the inside with gifts. In the 1980s, it was popular to decorate canisters with paint pens. I still have mine which I used to store all of my hair ribbons and accessories.
If you want to make some personalized gifts, you could use some sticker paper and make a "label" for the can.

March 13, 2008
0

found this helpful
free printable paint can covers
www.primdoodles.com/Tutorials4.asp
here's 2 more & on the right click the PAINTCANS button & there are 7
giftsthatsaywow.blogspot.com/.../Free%20Paint%20Can%20Printables
I couldn't find them right away but there are other printables here.There are several birthday printables options here as well -- it's a really good site.
www.momsbreak.com/

March 14, 2008
0

found this helpful
Ok, great for gift boxes/gift baskets. What about stilts? a Pair of cans and some twine or clothesline rope, a good nail, and take off the handles and tip the cans bottom up. Punch holes opposite each other in sides of the cans near the bottom which is now the top. Knot the twine and thread through the hole from the inside, so that the knot keeps it from coming free.
You loop this over, thread through the other hold and knot inside. Stilts... my Mom used to make these for us kids a LOT.
What about letting the kids decorate them and use them for the easter baskets? Storage is also an idea for nails, makeup. Overnight case? A gallon can would hole a set of "jammies" and whatever.

March 14, 2008
0

found this helpful
I have seen some really good gift packages made from paint cans. I have a couple of birthday gifts to give in the next week or so and that is what I will use. www.mardar.us/paintcovers.htm has some beautiful paint can labels and lids to print. That site also has lots of other printables. Just go to their home page and then go from there. Primdoodles.com/Tutorials4.asp is a paint can tutorial. It shows you how to make your own using a blank template.
www.jersgirl.com has A LOT of blank templates for things other than just paint cans. Also, if you google "free printables" you will get lots of info. Just "play" with all the different sites and have fun. Who knows, you may find a new hobby...one where you can even make a few extra bucks. Have fun and good luck!!
Margaret

March 16, 2008
0

found this helpful
Piggy banks!
By Joan (Guest Post)
February 27, 2009
0

found this helpful
I made a snowman kit in one. Painted blue and spong paint a snowman on front. Add a scarf, pair of gloves. wood carrot for nose, small rocks spray painted black for eyes and mouth, and a pipe, I made a corn cob pipe, and a hat of some sort. They are really cute to just sit around as decoration, or can actually be used for a snowman.
Answer

this Question

How can I decorate a paint can to give as a gift. I would want it to be permanent and look brand new, not hand made. Where would I buy a new empty can?
Giftsandbags.com
Answers

March 23, 2007
0

found this helpful
I know you can buy plain silver empty paint cans at walmart and home depot. I am not sure what you want them to look like as in brand new. if you want it look like a can that has been used with paint, you can try slowly dripping it around the edges for a cool effect. Or for something nicer you can use ribbons and flowers.

March 23, 2007
0

found this helpful
Here's a gift wrapping idea using new paint cans. They were available at Lowe's in 2005, and I believe home depot.

March 23, 2007
0

found this helpful
wrapcandy.com I wanted to know how to do this. I will now buy this software. Thanks
Answer

this Question