Crochet Accents for a Bathroom with New Colors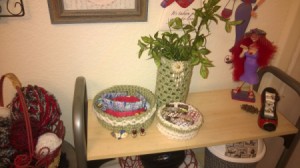 I have had a red and black bathroom (with gray accents) for 42 years. It's time for a change.
The shabby chic bathrooms with soft greens and creams have been popping up all over the place. I fell in love and looked to Pinterest and Thrifty Fun to inspire me. They have.
So today I made my first change. I crocheted two baskets for my bracelets and matching headbands, some dangling earrings, and a cover for a hurricane glass to hold some greenery.

Total Time: 3 hours
Yield: 3
Source: Too many to count but I am including a link to one I love.
Link: DigDigs
Supplies:
1 oz sage green yarn ($.50)
1 oz cream yarn ($.50)
size I and K hooks ($0.00)
scissors ($0.00)
hot glue gun ($1.00)
9 in scrap ribbon ($.05)
1 faux pearl embellishment ($.25)
1 each Something to keep the bowls' bottoms in shape. I used a cottage cheese lid and a cut down oatmeal box.
Steps:
I doubled the yarn on the baskets and used a K hook. You are going to make two circles, one of each color. One is 7 rows, one is 5. You pick which ones go with the sizes.
For the larger circle, chain 2 and make a single crochet in the second chain. Make another 11 for the circle for 12 and join. Chain 1 and make 2 in each stitch around for 24. Join and chain 2, making 1 in the first and 2 in the next for 36. You increase by 12 each row. Join and chain 2, making 1 in the first and 2nd and 2 in the next for 48. Do this for the next 3 rows.
For rows 8-14, make a single in each stitch. You do not increase now. When your work begins to come up the sides, you will see the bowl effect take shape.
When you complete row 14, break off the green and add your cream. I turned the work upside down and inserted the hook in the bottom two strands of the previous stitches. I chained 3 and made a slip stitch in every 3rd stitch. If you find your work is a bit loose, you can decrease a couple per row so your ending count won't be the same as the beginning. This is okay. As long as you end up with an even number on top, your loops will factor into the math. When you reach the last loop, chain 1 and make a double into the beginning loop from the first row. This makes you work in the middle of the loop. Then you can chain 3 again and make a slip stitch in the center of the loop below you and make your last row. Break off your tails and work them in. I put a cottage cheese lid in the bottom for a bit of stability. Once done, fold it down.
For the cream one, I made the base out of doubles because I was tired. But you can just follow the pattern for the other and stop at 5 instead of 7. Do the same with the green yarn as you did on the top of the green with cream yarn. I cut down an oatmeal box for the smaller one.
For the glass tube, I chose the green and used single strand and I hook. Then I chained enough to fit around the base of my tube. Yours might be bigger so just make a chain, join it into a loop and measure it. It should be a little snug.
I made a pattern of 2 doubles in 2 stitches and chain 1 skip 1. Pick your pattern so that light goes through in case you want to use it with a faux candle. Once you have established the gauge and pattern, continue up to the top.
I used a simple cream colored ribbon to weave in and out of the top, and glued it down to itself. I then added a pretty faux pearl earring front, and added some faux folliage.
Each basket was the perfect sizes for my embellished headbands and elastic bracelets. Step one is complete!! N-JOY!!
Add your voice! Click below to comment. ThriftyFun is powered by your wisdom!
Advertisement
Categories
Pages
More
Categories
Published by ThriftyFun.
© 1997-2020 by Cumuli, Inc. All Rights Reserved.
https://www.thriftyfun.com/Crochet-Accents-for-a-Bathroom-with-New-Colors.html