Crochet a couple of extra and take them to your local nursing home, these are perfect for hanging nightgowns on because they help to keep the gown on the hanger. These could be made for men also, just use more earth tones.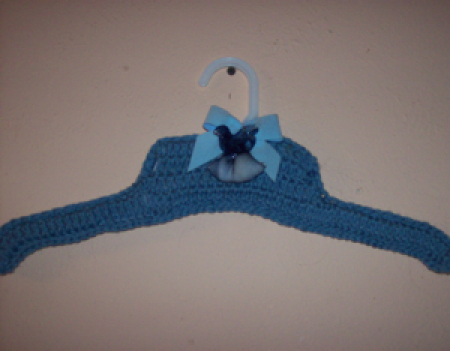 Read More...
Anyone know how to crochet a pad for a wooden coat hanger so when your clothes hang they don't get the bump on the shoulder?

Thank you.

Rio Lady

Answers:
Crochet Coat Hangers
Since all hangers are not the same size, these instructions can be adapted to any wooden hanger. Crochet a chain that will reach around the hanger. Remember crochet will stretch some. Turn and single crochet back and forth until you have a long narrow strip as long as the wooden part. Insert the hook of the hanger through a stitch at the center and whip stitch the edges together at the ends and bottom. For more padding you can wrap the hanger with strips of batting or fleece before putting the crochet on. You can add a scalloped edge along the bottom either before or after putting it on the hanger. The hook can be wrapped with yarn or matching ribbon. You can also cover the padded hanger with fabric.
(01/25/2005)

By Bettie in TX
h3>Crochet Coat Hangers
Here's a site where I found a pattern. crochet.about.com (05/11/2006)

By
Crochet Coat Hangers
I use a basic afghan stitch, and it makes a beautiful and very satisfactory hanger cover. Use worsted weight yarn and a size G crochet hook. Chain 10. Starting with 2nd chain from hook, yarn over and pull through. Continue down the chain. You will have 10 loops on your hook. (Yarn over and draw through one loop, yarn over and draw through two loops) until you are back to one loop on your hook. Repeat this pattern until you have a strip long enough for your hanger (I like to stretch it slightly, so the crochet work will be snug).
For your last row, do the first half of the row; with 10 loops on your hook, yarn over and pull through all 10 loops. This creates a closed end. Then, with the bumpy side out, single-crochet the sides of the strip together. If your hanger has an unscrewing hook, you can complete the single-crocheting leaving just the other end open; if your hook doesn't unscrew you'll have to slip the crocheting over the hanger when you're about a quarter of the way done. Continue single crocheting around the second end, finish off and pull yarn ends to the inside. (10/30/2006)

By Carlyn