December 17, 2008
0

found this helpful
They do make good gifts! I took several bundles of 6's to Dom. Rep. for the housekeepers. I also give them as thank you's and to family and neighbors. I use nylotex to braid them - another version of a covered hanger. If you wet the fabric it is easy to keep the fabric snug as you braid. I love covered hangers and enjoy making the unique gift to last. I'd like to see a picture of the crocheted hangers if you have one.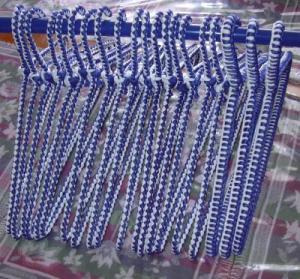 December 20, 2008
0

found this helpful
Cool! Another thing I do is simply chain some scrap yarn with a size hook you feel comfortable with. Just crochet the chain till you think it's long enough. and if it isn't, don't worry. You can simply keep going with more yarn from the short end. I then take the tails (I say plural because I almost always crochet with two strands) and tie them around the base of the hook. Then, with low temp glue, I secure the first of the chain and just wrap around the hanger, gluing every 2 or 3 inches. Keeping the chain in a ball helps to pass it through. When you come up the other side, you can break off or wrap the hook, too. I don't, because sometimes it makes it hard to fit on the rod, but if yours is smaller, then by all means do.
It is nice and thick and practically free!
PS: These don't work on wire hangers...
By guest (Guest Post)
February 6, 2009
0

found this helpful
Can someone give me the pattern instructions for braided clothes hanger covers? Thanks
By guest (Guest Post)
February 21, 2009
0

found this helpful
This is uncanny, I was just about to go on e-bay and spend 10.00$ for those hanger covers. This is great. I can use my leftover yarn too. As I get bigger my clothes get bigger and they don't stay on my hangers. Lol Thanks
April 5, 2011
0

found this helpful
I crochet wire hangers also. They made a unique gift for someone I hold dear in a dementia ward. They are fairly sturdy after crocheting them and I sewed a piece of material on each one with her name (as is required there). The name of course was put on with permanent marker.
October 13, 2013
0

found this helpful
I am more of a visual person. Do you have a video showing how to make these crochet hangers? I found one on YouTube but the chains end up very loose. Please help.