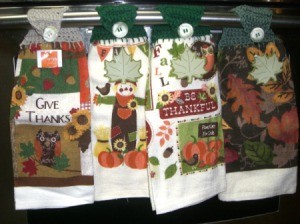 When I was a young girl my aunt always had one of these hanging on the stove and fridge. I use the whole towel; some like to cut it in half, but it looks nice with the whole towel. I only use 100% cotton yarn. I use Sugar and Cream crochet thread.
Work a blanket stitch across the top and then crochet single stitches across. Always add one stitch at the end so you can turn it around. This way you will have the same amount of stitches as you go. You do about 8 to 10 rows and then decrease by one each time leaving the extra stitch off.
You will notice that it will become narrower as you go. When you have five stitches left, crochet two then add to that stitch four extra and skip one and go into the last two crochet at least two down and turn around to add the button hole. After you have completed it sew a button on and it will hang on your stove or fridge. It only takes about 20 minutes to make one, once you get going.
You will prevent having messy hand prints all over the place. If you need any more instructions just ask.
Here are some that are ready to go and find a home. I hope you enjoy turning out as many as you can. They make really nice gifts for teachers or a craft show. It seems no one makes them any more.
I like to make them in memory of my aunt.