Crocheted Remote Pouch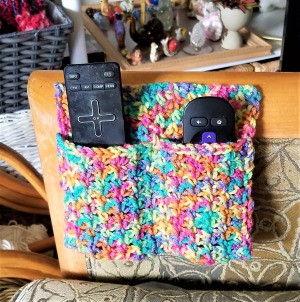 With yarn, a crochet hook, scissors, and hot glue gun, you too can have this little gem. It sure has saved me from picking them up off the floor!
Total Time: 2 hours
Yield: 1
Supplies:
88 yd yarn of your choice ($.50)
size J hook
scissors
darning needle
third of a glue gun stick, optional
Steps:
For the remotes you need to corral, measure 3/4" on either side so things aren't so crowded. I only had 2 so it was pretty simple. Your chain count, hook size, if you do a double strand, etc. might be different, so adjust accordingly.
For mine, I chained 26, and made the first single crochet in the 2nd stitch. I made mine a moss stitch, but you can choose any stitch you like. The base is key, so if you think it's not wide enough make sure it is.
Now it's just a matter of making the piece long enough to fold over 2/3 back on itself. Mine was 72 rows. Yours might be longer or shorter. Just keep making sure they "fit before you commit".
Once you know they will fit, it's time to sew up the side seams. I did one, then wove the yarn over to the center and made that seam, then across the bottom and up the other side. If your tail isn't long enough, don't worry about it.
NOTE: When it comes to securing the edges that connect the "folded" part to the back, don't scrimp. This needs several stitches for security. Over time, you remote will stretch this a bit, so make it strong.
Now, because I have an old cheap chair, I just glued it to the arm. I am pretty sure you won't do that. But, if you want the "strip" to be longer so you can fold it over and pin it, glue it, or secure it some other way, just keep crocheting then secure it to the chair or couch any way you want. I love mine. N-JOY!!
Add your voice! Click below to comment. ThriftyFun is powered by your wisdom!
Related Content