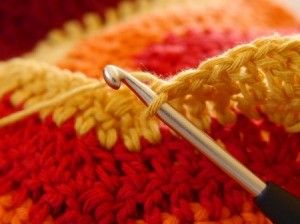 I can embroider, knit, quilt, needlepoint, but cannot crochet. My problem is I have one hand. My left. I have a thumb on my right. I am normally left-handed. I want to learn to crochet. Does anyone have any help for me?
Diane from Milwaukee, WI
Answers

Janice C.
Silver Feedback Medal for All Time! 418 Feedbacks
October 7, 2006
0

found this helpful
Best Answer
This is a very interesting challenge. I'm left-handed, and in the middle of a simple crochet project, so I gave it a try. You need a little tension on the yarn and stability on the already completed row. I ran a knitting needle horizontally through the row of stitches 2 rows down, and then wrapped the yarn around my right thumb. For further stability I put the completed section across my knees. I think this might work with practice. You would of course need help with the first couple of rows, but that's what friends are for. Good luck, and please let us know what works for you.

Paula
Bronze Feedback Medal for All Time! 156 Feedbacks
December 7, 2006
0

found this helpful
Best Answer
Diane, I would call the Goodwill Industries; they may know of somewhere or someone that could teach you. They have a lot of programs that help rehabilitate people and help them with job skills so, maybe, they have someone that would know how to teach crocheting.
I would also call a local senior center and see if they have any of the ladies that could teach you, most creative people love to share their knowledge!

March 10, 2009
0

found this helpful
Best Answer
I only have the use of my left hand also, and I crochet by putting the crochet hook in a vice which is attached to a piece of wood so I can basicly use it anywhere. Hope this helps
Best Answer
Buy a hand brace came to thought. Attach the crochet hook to it with duck tape or some sort of something to secure it. I am right handed and do most the work with my left and hardly move the right at all.
The hand brace you can get at any pharmacy store.
Answer

this Question

I've had a stroke and am paralyzed on my left side so I have given up crocheting, and cross stitching. Anyone have ideas to do either in an adaptable way?
Answers

Judy
Gold Post Medal for All Time! 677 Posts
November 1, 2017
0

found this helpful
Best Answer
This YouTube video says to use a long Tunisian hook or to tape your crochet hook securely to a long knitting needle. You then stick the needle under the arm of your bad hand and crochet with your good hand The instructions are here:m.youtube.com/watch?v=4-7zRyKqlqk.

wordswork
Bronze Feedback Medal for All Time! 170 Feedbacks
November 6, 2017
0

found this helpful
Best Answer
If you have time, try browsing a hardware store in the "clamps and vise grips" section? I'm not sure the result would be inexpensive, but am certain you would find something to hold your embroidery hoop firmly in place.
Answer

this Question