Donna
Gold Post Medal for All Time! 555 Posts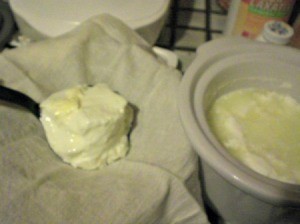 This recipe makes inexpensive and easy yogurt (regular or Greek) in your crockpot at home. Basically; you heat the milk to 180 degrees, cool it to 110, add a bit of plain live culture yogurt to the mix and keep it warm for a few hours to grow, cool it, strain it and eat it!
The breakdown: All it takes is milk and one small container of plain yogurt with LIVE cultures and a thermometer that registers from 90 degrees to at least 180 degrees F. I bought an instant read one in my hardware store for $8. You can really make this on the stove as well but I loved the idea of just leaving it in the crockpot.
I have been playing with this for a month now and I am very happy with the results.
I started out with a quart of whole milk but have also tried part skim and heard that even skim works.

Yield: 4 to 6 servings for a qt.
Ingredients:
1 qt milk (whole or 2 % although some recipes say you may use skim, but I never have yet
1 small container of fresh, plain yogurt with live and active cultures
1 thermometer that reaches 100% to 200%
a crockpot or a stainless steel or enamel pot
a strainer if you want to make greek yogurt
(cheesecloth?)
Steps:
Some folks use a full gallon of milk at once for double the yogurt. I wanted to test the recipe so I used my smaller 1.5 qt crockpot (slow cooker) which didn't even hold a full quart of milk. I filled the 48 oz. crockpot, leaving me with 2 cups of milk left over.
I put on the lid and turned it on high in the morning then went on with my day. I checked about 5 hours later. It should have reached 180 degrees F. When it does, take the crock out of the crock pot base to allow it to cool down.

Continue to skim the skin off the top of the milk if it is forming, which is normal.

Remove one cup of the hot milk and leave it on the counter until it cools down and reaches about 120 degrees.
Add 5 tablespoons of your plain, live culture yogurt to the cooled cup of milk and blend. If you are making a gallon of milk, add a half cup of the plain yogurt.

Continue allowing the milk in the crock (uncovered) to cool down to between 110 and 120. Once it does, add the cup of milk/yogurt mixture and stir.
Return the crockpot back into the crockpot base, then wrap the whole thing with a bath towel and put somewhere that it won't be disturbed for around 5 to 6 hours (many just leave it overnight). The longer you let it sit at warm temperatures, the tarter the flavor. I enjoy mine mild.

Check every once in a while to see how its temperature is. Not often or you lose the heat. It should stay between 100 and 110 degrees. You can even turn on the crockpot for a short time if it starts to drop too low but be SAFE about the cloth around it and don't forget and leave it on, overheating and killing the active culture!Use a timer if you must!

Some folks rather just put the crock POT (not the electronics/base) into their oven that theyve preheated to 100 degrees then turned off. Some put the mixture into a thermos to hold the warmth and allow the yogurt growth and some place their pot on a heating pad or the back of a stove. Some folks even just put it out in the sun!
After that time (6+ hours), your yogurt is complete! Refrigerate!
If you want to make Greek yogurt, take it out of the refridge after its cooled down and strain it in a strainer with cheesecloth.

The only difference between regular yogurt and Greek is the amount of water content. I didn't want to totally dry out my yogurt so I only did it for an hour.

Thats it! You have a nice bowl of fresh, healthy yogurt. I love to have mine with high quality maple syrup, granola, fruits in season and/or nuts. YUM!

Enjoy!
The alternative way to make yogurt without a crockpot would be to heat the milk on a steel or enamel pot on the stove (in a double boiler so you dont scald the milk) which is fine too.
The science behind this is that active cultures are like yeast. They multiply in the right warmth environment. Too hot and you kill the active cultures, just like yeast! Too cold and they don't grow.
Some folks (me) save the liquid that comes from the yogurt (called Whey) for soups or to make Ricotta cheese but that's another recipe!
Add your voice! Click below to comment. ThriftyFun is powered by your wisdom!

bryguy
Bronze Feedback Medal for All Time! 167 Feedbacks
January 4, 2015
0

found this helpful
It's much easier to just wrap a glass jar with a heating pad and leave it on low (or high if the room is cold). Much less monitoring. I'm also too lazy to heat the milk to kill off bacteria before adding the live culture. The live culture still thrives and I haven't gotten sick yet. I've also been known to simply place the container on top of the fridge, in the back where it is hottest (for those who don't know, the fridge works by pulling heat from inside the fridge into the room). As for monitoring, it's easiest to use an electronic cooking thermometer because they have alarms to warn you when the temperature is too high (which can be a problem if you use active heat, i.e.
the heating pad or fridge). Since you're using passive heat, you need one that warns you when it's too low, i.e. an electronic fridge thermometer. I've seen wired thermometers for less than $10 and wireless ones for about $15.
And yes, I've used skim milk which results in a less creamy gelatinous texture (almost like Swiss style yogurt which often has starch or gelatin as a thickener). I sometimes add milk powder to increase its creaminess. I've heard that you can also use soy milk although I was unsuccessful.
Since my favorite are not always available, I love eating homemade yogurt with jams and preserves.
Add your voice! Click below to comment. ThriftyFun is powered by your wisdom!