Donna
Gold Post Medal for All Time! 555 Posts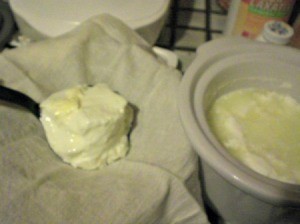 This recipe makes inexpensive and easy yogurt (regular or Greek) in your crockpot at home. Basically; you heat the milk to 180 degrees, cool it to 110, add a bit of plain live culture yogurt to the mix and keep it warm for a few hours to grow, cool it, strain it and eat it!
The breakdown: All it takes is milk and one small container of plain yogurt with LIVE cultures and a thermometer that registers from 90 degrees to at least 180 degrees F. I bought an instant read one in my hardware store for $8. You can really make this on the stove as well but I loved the idea of just leaving it in the crockpot.
I have been playing with this for a month now and I am very happy with the results.
I started out with a quart of whole milk but have also tried part skim and heard that even skim works.

Yield: 4 to 6 servings for a qt.
Ingredients:
1 qt milk (whole or 2 % although some recipes say you may use skim, but I never have yet
1 small container of fresh, plain yogurt with live and active cultures
1 thermometer that reaches 100% to 200%
a crockpot or a stainless steel or enamel pot
a strainer if you want to make greek yogurt
(cheesecloth?)
Steps:
Some folks use a full gallon of milk at once for double the yogurt. I wanted to test the recipe so I used my smaller 1.5 qt crockpot (slow cooker) which didn't even hold a full quart of milk. I filled the 48 oz. crockpot, leaving me with 2 cups of milk left over.
I put on the lid and turned it on high in the morning then went on with my day. I checked about 5 hours later. It should have reached 180 degrees F. When it does, take the crock out of the crock pot base to allow it to cool down.

Continue to skim the skin off the top of the milk if it is forming, which is normal.

Remove one cup of the hot milk and leave it on the counter until it cools down and reaches about 120 degrees.
Add 5 tablespoons of your plain, live culture yogurt to the cooled cup of milk and blend. If you are making a gallon of milk, add a half cup of the plain yogurt.

Continue allowing the milk in the crock (uncovered) to cool down to between 110 and 120. Once it does, add the cup of milk/yogurt mixture and stir.
Return the crockpot back into the crockpot base, then wrap the whole thing with a bath towel and put somewhere that it won't be disturbed for around 5 to 6 hours (many just leave it overnight). The longer you let it sit at warm temperatures, the tarter the flavor. I enjoy mine mild.

Check every once in a while to see how its temperature is. Not often or you lose the heat. It should stay between 100 and 110 degrees. You can even turn on the crockpot for a short time if it starts to drop too low but be SAFE about the cloth around it and don't forget and leave it on, overheating and killing the active culture!Use a timer if you must!

Some folks rather just put the crock POT (not the electronics/base) into their oven that theyve preheated to 100 degrees then turned off. Some put the mixture into a thermos to hold the warmth and allow the yogurt growth and some place their pot on a heating pad or the back of a stove. Some folks even just put it out in the sun!
After that time (6+ hours), your yogurt is complete! Refrigerate!
If you want to make Greek yogurt, take it out of the refridge after its cooled down and strain it in a strainer with cheesecloth.

The only difference between regular yogurt and Greek is the amount of water content. I didn't want to totally dry out my yogurt so I only did it for an hour.

Thats it! You have a nice bowl of fresh, healthy yogurt. I love to have mine with high quality maple syrup, granola, fruits in season and/or nuts. YUM!

Enjoy!
The alternative way to make yogurt without a crockpot would be to heat the milk on a steel or enamel pot on the stove (in a double boiler so you dont scald the milk) which is fine too.
The science behind this is that active cultures are like yeast. They multiply in the right warmth environment. Too hot and you kill the active cultures, just like yeast! Too cold and they don't grow.
Some folks (me) save the liquid that comes from the yogurt (called Whey) for soups or to make Ricotta cheese but that's another recipe!
Read More

Comments

I make my yogurt in the crock pot and heat on low, but it is so hot. I turn it off after that. I let it set, but it is still watery. Should I turn it off?
By jess from Malaysia
Answers

Marjorie
Silver Feedback Medal for All Time! 290 Feedbacks
June 1, 2010
0

found this helpful
This will give you step-by-step instructions.
crockpot365.blogspot.com/.../you-can-make-yogurt-in-your-crockpot...

June 3, 2010
0

found this helpful
crockpot365.blogspot.com/200 ... an-make-yogurt-in-your-crockpot.html
I also use the recipe from this website to make yogurt. It is absolutely delicious! Read the comments section, it's long but has a lot of good ideas. Mine has come out a little watery sometimes, so I'm thinking about using a little of the gelatin they suggest. Also, I put a cookie tray on the rack in my oven & lay 2 large towels on it crosswise(like the letter " t ", put just the crock(not the holder) on the towels & wrap it up real good.I let it sit all night in the oven & it turns out great in the AM.
Read the archive section that is showing up under your question, it has some great tips!

June 5, 2010
0

found this helpful
The best advice I got for making a thicker yogurt was from someone here on ThriftyFun. Add 2-4 cups of dry milk to the recipe, depending how thick you like it. I am not sure when she adds it but I add it when I put in the cup of starter yogurt. I take out 2 cups of warm milk from the crockpot and add the dry milk. Stir it very well, add the starter yogurt, stir and add back to the pot. This is for making a gallon in a 6 qt. pot.

October 15, 2011
0

found this helpful
I am now on my 4th batch of delicious yogurt! I don't use any gelatin or powders. I use a large crock (gal size) that's all I have and so I pour a half gallon of combination 2% milk with nonfat milk and I have also poured 2 cups half and half and the other 6 cups non fat milk.
I cook on low 2 hours and 45 minutes. I unplug so I don't forget to turn off and cool 3 hours with lid on. I have room temp the 1/2 cup yogurt from the batch before and ladle some of the warm milk to break it up. I pour that mixture in a bowl and whisk so its smooth, creamy and well blended and pour all that back into the crock. I even use a spatula to make sure I get every drop from the bowl.
I mix everything again with the whisk to ensure all again is very well blended but I am not creating a froth. I even get the line that forms around the crock from the milk cooking and cooling rubbed off with the whisk as I am mixing for about 45 seconds. I blanket my crock with 2 fleeced hooded jackets.
Example: my last batch I was done mixing at 4pm and so all was incubating from 4pm to next day 9am. I know that sounds so long but sitting longer I noticed less whey and better super white creamy sweet texture. Then I poured into my prepared colander and cheese cloth process to get more whey out for about 2-3 hours maybe less.
I also drain the whey every half hour during the draining period. Once I got the thicker creamy consistency of Greek yogurt I right away started spooning into containers or glass jars if you prefer.
That's it! I am 55 and since I have been eating plain yogurt this past 6 months 2 cups a day, my IBS has gone away, my hot flashes are better. I feel good all the time and I eat less and am slimming down in the process. You are eating a dish of "health". Enjoy!

October 15, 2011
0

found this helpful
Hello this is Hawaii. I forgot to mention that I drain the yogurt in the refrigerator, until I get the Greek yogurt consistency.
Answer

this Question