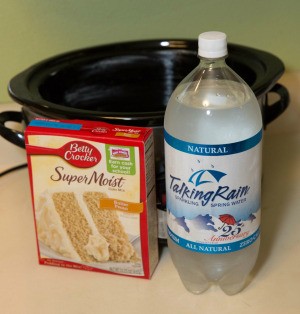 Easy to make, doesn't heat up the kitchen and tastes wonderful.
Ingredients:
1/2 cup all-purpose flour
3/4 cup granulated sugar, divided
3/4 tsp. baking powder
1/3 cup milk
1 Tbsp. vegetable oil
1/2 tsp. vanilla extract
1/4 cup peanut butter
3 Tbsp. unsweetened cocoa
1 cup boiling water
Directions:
In a bowl, combine flour, 1/4 cup sugar and baking powder. Add milk, oil and vanilla extract; stir until smooth. Mix in peanut butter. Pour into a 3 1/2-quart crockpot.
In same mixing bowl, stir together remaining 1/2 cup sugar and cocoa. Gradually stir in boiling water. Pour mixture over batter in cooker. Do not stir.
Cover and cook on High for 2 to 3 hours or until a wooden pick inserted comes out clean.
Serve warm with vanilla ice cream, hot fudge sauce and nuts.
Servings:
10
Time:
30 Minutes Preparation Time
2 to 3 Hours Cooking Time
By Sherry from Poulsbo, WA
Read More

Comments
I am looking for a crockpot version of lazy day cake. It consists of a cake mix, butter and pie filling and is done in a crockpot, I saw it somewhere on the web. Now I can't remember where. I sure would appreciate it if some one give me the amounts and time
Sonya
Answers
September 27, 2004
0

found this helpful
Look over at www.about.com
They have lots of crockpot cake recipes.
July 20, 2006
0

found this helpful
Crockpot Cherry (or any fruit) Cobbler
1 16 oz. can cherry pie filling
1 pkg cake mix for one layer cake
(I used yellow)
3 TBS. Evaporated Milk
(I used 5)
1/2 TSP Cinnamon
(I just poured, think I used more)
Put pie filling in lightly buttered 3 1/2 qt. Crock pot and cook on high for
30 minutes or so. While cooking, mix the remaining ingredients - they will
be stiff - and spoon onto the hot pie filling. Cover and cook for 2-3 hours
on low heat. Serve with whipped cream or ice cream - DELICIOUS!!!
July 23, 2006
0

found this helpful
Minister's Delight
You'll need just four common ingredients to put together this comforting dessert from Mary Ann Potter of Blue Springs, Missouri. "A friend gave me this recipe several years ago," Mary Ann notes. "She said a local minister's wife fixed it every Sunday, so she named it accordingly."
INGREDIENTS
1 can (21 ounces) cherry or apple pie filling
1 package (18-1/4 ounces) yellow cake mix
1/2 cup butter or margarine, melted
1/3 cup chopped walnuts, optional
SERVINGS 10-12
CATEGORY Dessert
METHOD Slow Cooker
PREP 5 min.
COOK 120 min.
TOTAL 125 min.
DIRECTIONS
Place pie filling in a slow cooker. Combine dry cake mix and butter (mixture will be crumbly); sprinkle over filling. Sprinkle with walnuts if desired. Cover and cook on low for 2-3 hours. Serve in bowls. Yield: 10-12 servings.
July 29, 2006
0

found this helpful
I'd like to make this, but don't think I've ever seen one layer cake mix on the shelves. Is there brand name that you use?
December 3, 2007
0

found this helpful
Thanks for all this info. Even though I did not ask for it , it really will come in handy. We have been w/o an oven for almost a year now. The toaster oven doesn't cook cake very well.
By Cynthia M. (Guest Post)
December 26, 2008
0

found this helpful
For the lady wanting to know about mixes for 1 layer cakes: Jiffy makes them. You know that also makes Jiffy cornbread mix? Not a huge selection, but they make cake mixes and also muffin mixes. Hope this helps.
February 13, 2011
0

found this helpful
My daughter brought over this to die for Chocolate Raspberry Cake in the crock pot for Super Bowl! In order on how to layer is from bottom to top:
lightly butter/spray crock
2 cans Raspberry pie filling
1/2 bottle of Raspberry syrup
1 chocolate devilsfood cake mix
1 stick butter
cook on high for two hours
I was thinking of trying it with peach and a white cake mix or maybe an apple with a spice cake mix!
April 23, 2016
0

found this helpful
Sounds wonderful! What size crock pot did she use?
Answer

this Question