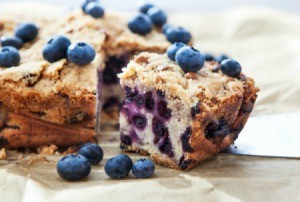 Ingredients
Crumb Topping
2/3 cup sugar
1/2 cup flour
1/2 tsp. cinnamon
4 Tbsp. butter or margarine, softened
1 cup walnuts, chopped
Cake Batter
2 cups flour
2/3 cup sugar
3 tsp. baking powder
1/2 tsp. baking soda
1 tsp. salt
2 eggs
1 cup milk
1/2 cup butter or margarine, melted
2 Tbsp. lemon juice
2 cups frozen or fresh whole blueberries
Directions
In a small bowl, combine all crumb topping ingredients. Stir until mixture is evenly blended and crumbly. Set aside.
In a large mixing bowl, combine flour, sugar, baking powder, baking soda, and salt. Stir well. In a large measuring cup, combine milk, eggs, butter and lemon juice. Stir liquid ingredients into flour mixture until blended. Pour into buttered 13 x 9-inch baking dish/pan.
Sprinkle blueberries evenly over batter. Sprinkle with crumb topping.
Bake at 350 degrees F. for 40-45 minutes. Can be served warm or cold.
By Patty K. from Turbotville, PA