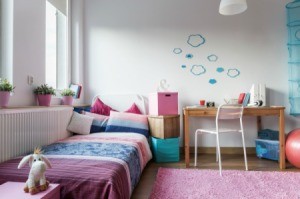 I need help organizing my room! I have a lot of stuff and I need it all. I have little storage, but a lot of clothes. I have tried every organizing tip I have heard, like throwing away or getting rid of stuff I don't need. I do it every month and my room is still messy and unorganized. I can never find anything.
I have a small desk with 3 large and deep shelves, a 6 foot long and 4 feet wide closet, 4 shelves, a night stand with no shelves or drawers (just a big opening), a 3 drawer dresser and 3 drawers underneath my bed. I would like the organizing ideas to be cute and fun.
Thanks.
Help from MI
Answers

March 11, 2013
0

found this helpful
Best Answer
Hi I hope this helps!(:
Desk with three drawers - this you can put all of your papers and supplies in and to make it look fun and cute decorate the out side with fun stickers and label each drawer what it has in it!
Closet - if you have a metal rod in it use that or buy one. You can hang all you're nice shirts on that then go to like Walmart and check out little individual mini totes. Put tanks, scarfs and socks in that and put those on the shelves. You can get colorful ones to brighten up youre closet like I have a yellow and green one(:
Next get a 5 ft tall storage thing and put all your shoes in that! On another of your shelfs fold all your jeans and shorts and skirts and more on those and take duct tape and label which is where. In your dresser depending on the weather if it's cold put your summer clothes or your winter clothes. On top of your dresser put your makeup and hair and lotions in little baskets.
Answer

this Question