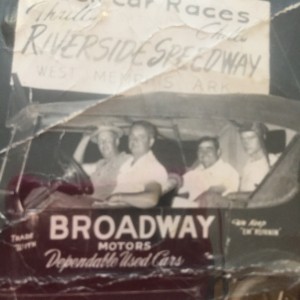 My late father was an avid stock car fan and a car salesman in the local area. He was well known for being a handsome man, well dressed, full of wit and humor and he "never met a stranger". He became the pace car driver for a local stock car driver Hooked Hood of West memphis, Arkansas.
My father died at an early age when I was five years old, but left a legacy of personality, a "cracker jack" car salesman, and the love of people, The legacy of a good work ethic, appreciation of life in enjoying life every day, a sense of humor were shared by my mother, since I do not have any memories of my father. He was well known among car dealerships in the city because of his charisma toward people, his love of automobiles and the ability to make a good living for his family.
He loved my mother and made sure she was dressed like a runway model when he took her to an event or just to the race track. I inherited his love of automobiles and music and will always remember the funny antics that my mother told me about my dad. It is sad that died at such an early age, left my mother with 3 children and an automobile. She used his example of work ethics and took a job, used her sewing skills to make our clothes, home accessories and his skills to repair things in the house, have a pretty , manicured yard and laughter and music in our home.
West Memphis, Arkansas in the early 1950s