Decorating Cakes With Fondant
Solutions
Share on ThriftyFunThis guide contains the following solutions. Have something to add? Please share your solution!
I made loads of fresh homemade fondant for my husband's birthday cake. I spent so much time decorating it (this one took me hours!), there was no way I would be okay with even a drop of candle wax dripping on his silhouette. I used the leftover fondant to mold into candle holders to place in front of the cake. They stuck to the tray very firmly. Not a worry in the world!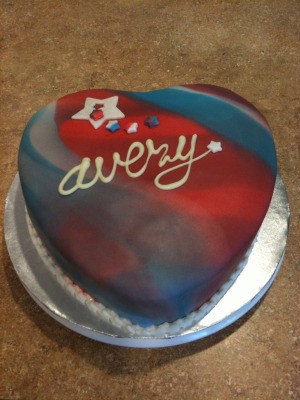 I made this birthday cake for my daughter last year. She is so lucky to have a 4th of July birthday, so I tend to go a little crazy playing on the red, white, and blue theme. :)
To create the neat marbled look I dividing my fondant in thirds. I dyed 1/3 red, 1/3 blue, and left the remaining 1/3 white. I then rolled each ball into more of a hot dog shape, held them all together, and twisted them around each other a few times. I then carefully made the whole thing into a ball and rolled it out to the proper size to cover my cake. I really love how it turned out!
After covering the cake I trimmed off all of the excess fondant. Next I rolled out a smaller piece of white fondant and using a tiny cookie cutter, I cut out a bunch of stars. I went around the cake once with them. Then I did a second layer of them to cover the gaps where the cake showed in between the first set of stars.
For the top I cut out a large white star, with a tiny star cut out of it. I also cut out a few tiny stars from the excess marbled fondant that I covered the cake with. I wrote her name using melted white chocolate (that I put in a baggie with a corner snipped off).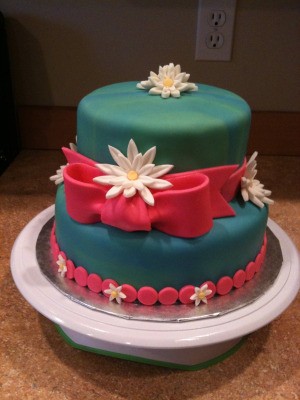 I made this two tiered birthday cake and decorated the the whole thing with fondant. I really enjoy marbling fondant so I chose to marble a teal and a blue color together. It was for a young girl so I wanted to make funky yet beautiful, so I chose to make the bow and dots in a bright pink.
The flowers were make by cutting daisy flowers out of fondant using a cutter. I then used fondant tools to gently press in the center of the petals to give them so shape and texture. The flowers were then dried in small rounded cups to give them their curl. Everything is adhered to the cake using a simple "edible glue" made by combining piping gel and water. You apply it was a food safe paint brush and then attach your pieces.
Make sure that if you are going to make a tiered cake that the top tier is on an appropriately sized cake board. You need to place dowels cut to the right length in the bottom tier too. I like to use 4 to make a square and then place an addition dowel in the center of that square. This will provide good support for the top tier. You may even want to drive a long dowel (with the tip sharpened) through both tiers. Tiered cakes can get really heavy so support is very important even for a smaller cake.
June 18, 2019
0

found this helpful
Make your own fondant sushi cupcake toppers and save lots of money. If you can model with play dough, you can create your own decorative entrees with this pliable edible dough.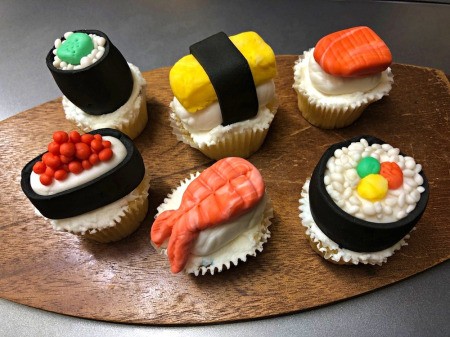 September 28, 2011
0

found this helpful
This is a guide about making homemade fondant. Fondant covered cakes are very popular right now. If you don't want to buy pre-made fondant, you can make your own.

Related Content