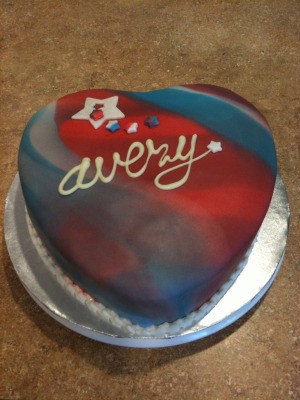 I made this birthday cake for my daughter last year. She is so lucky to have a 4th of July birthday, so I tend to go a little crazy playing on the red, white, and blue theme. :)
To create the neat marbled look I dividing my fondant in thirds. I dyed 1/3 red, 1/3 blue, and left the remaining 1/3 white. I then rolled each ball into more of a hot dog shape, held them all together, and twisted them around each other a few times. I then carefully made the whole thing into a ball and rolled it out to the proper size to cover my cake. I really love how it turned out!
After covering the cake I trimmed off all of the excess fondant. Next I rolled out a smaller piece of white fondant and using a tiny cookie cutter, I cut out a bunch of stars. I went around the cake once with them. Then I did a second layer of them to cover the gaps where the cake showed in between the first set of stars.
For the top I cut out a large white star, with a tiny star cut out of it. I also cut out a few tiny stars from the excess marbled fondant that I covered the cake with. I wrote her name using melted white chocolate (that I put in a baggie with a corner snipped off).
I made this two tiered birthday cake and decorated the the whole thing with fondant. I really enjoy marbling fondant so I chose to marble a teal and a blue color together.
It was for a young girl so I wanted to make funky yet beautiful, so I chose to make the bow and dots in a bright pink.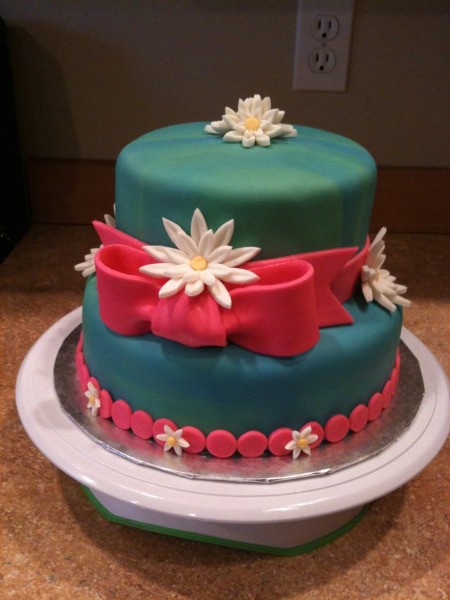 Read More...