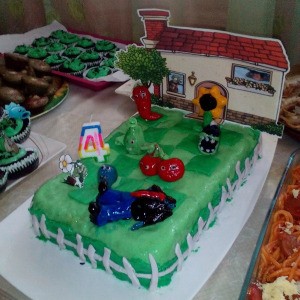 Before my son's birthday celebration, I had some plans on how to make it fun with less budget. Then he came to me and said he wanted a themed fondant cake. I was planning to bake a cake for him but to make a fondant, I wasn't sure if I could do it. The figures looks complicated and I don't have enough equipment to make it. What disheartened me most was when I went out to canvass prices in cake shops, the prices were really out of my budget.
I was lost for a while, thinking of ways to make my little boy understand that I couldn't afford for even a small themed fondant cake until I remembered my husband telling me that marshmallows can be made into fondant. I searched for it and recipes are even more complicated. Some ingredients aren't available on the market and I'm not familiar with some of those.
I searched for toys which I could use as cake toppers but it's just hard to find one. No choice but to really create my own, with fingers crossed. So, I bought a pack of white marshmallows, powdered sugar and some food coloring. They are actually very affordable, I wonder why fondant cakes are too expensive here in my place.
Two days prior to the celebration, I already prepared the fondant. I started melting the marshmallows and added the sugar. Then I divided it into portions, the biggest portion is being set aside for the base and the small portions for the figures. I colored each portions and started kneading them and let set over night. The next day, I started forming and cutting using just a small knife and a piece of long straight glass as rolling pin.
The process of kneading the fondant was the most laborious part. Now I understand why it's so expensive, the effort of making it is enormous! As I have finally formed the figures, I felt like it was a very big achievement in my entire life. For me, the cake I made was perfect and the most touching part was when my little boy saw his birthday cake. His reaction was priceless, then he said with so much excitement "Thank you mom, I'm so happy you baked a cake for me." Then I smiled with teary eyes.
It was indeed an achievement since I was able to save more than the amount of my budget for the cake. And I made my son happy. Fondant isn't that easy to make but now I know that I can save a lot of money if I make my own. There might be some fondant recipes that has expensive ingredients but it doesn't make any difference especially when you're trying to save money. This 2 ingredient fondant recipe is a big help to me.