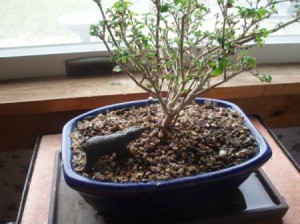 I love plants in my home, especially herbs that I can use all year long! I had a small child's toy bear that I added to my bonsai plant and really liked the look! So I went to garage sales and found other animals that would look good in my plants, all just for fun! Take a look!
I just check out flea markets for little plastic animals that I like and try to match them with the plant settings to create little jungles, all just for fun!
These are rosmary and thyme and other houseplants with my little horse. It reminds me of Assateague Island where we vacationed and where the horses roam free!
These chives reminded me of the jungle plants, so I added an elephant to my rainforest.
Deep in the forest, roam the cats!
Grazing wildlife amid the jungle! Adults and kids really love these rainforests!
Add some whimsy to your houseplants! Have fun adding your (or your childrens or grandchildrens) favorite pets and create your own jungle!