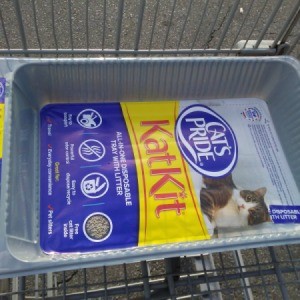 I have a large number of pet cats at our house. I have six adult cats and 14 kittens at the moment, and they are getting ready to be adopted. My adult cats use these huge plastic tubs filled with cedar shavings or pine shavings as litter boxes. However, when they are babies, I always use the normal kind of litter.
I was at the store the other day, and I picked up this litterbox. It is a plastic litterbox with the litter already in it. It comes ready to use, and is $4.
The babies are all getting ready, in various stages, to use the litterbox and I am going to put this in there to teach them. I will, of course, have to watch and make sure they are not trying to ingest the litter. Some kittens do this, and it is good to watch for it.
I am including various pictures of the babies we have, they are so darling and they grow up and leave us so fast!
Have a wonderful spring and summer!