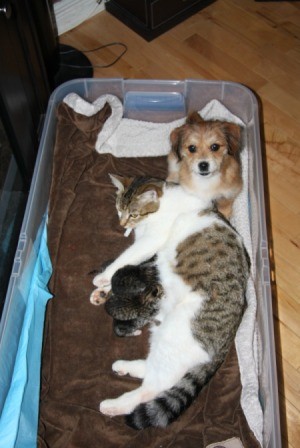 Does your cat bring you kittens at different moments? My cat Mable seems to bring me the ones that are not on the same schedule as the others. So which ever one is awake when the others are asleep, she will bring it to me to try and calm it down.
It never is the same one, it is almost like she is trying to get them on the same routine all together. Do you think it is possible? Can anyone else who has had experiences like this, please help? I think it is important to tell you that I helped her deliver 4 out of 5 babies, by her choice, and she has brought me every single one of her kittens on different occasions. She is also in heat big time. She is meowing quite a bit.
I don't know how to help or what she really wants. Also she lets Cara my female puppy carry the kittens and help her move them. This seems like pretty special behaviour. Any thoughts?
By Stephanie
Answers
March 14, 2015
0

found this helpful
Best Answer
Female cats who live together, especially siblings, will often help each other birth and care for babies. This is normal. It's more unusual for your cat to let the dog help care for the babies, but it probably just depends on whether she considers the dog a sibling.
Your cat brings her kittens to you so they will get used to being handled by humans. She realizes that they are domesticated cats who will have to rely on humans for for their food and shelter.
Less domesticated cats behave instinctively, fiercely guarding their kittens. More domesticated cats may realize that humans and dogs will play a big part in the kittens' future.
March 14, 2015
0

found this helpful
In addition to what I posted below: I have a more domestic cat myself. She is spayed and won't have kittens. But her best friend is a neighbors Maltese dog. She enjoys seeing the neighbors and tries to go into their apartments whenever their doors are open.
Sometimes I wish she was a bit more instinctual, for instance, she could use more caution around the parking lot. However, she knows what's what in her suburban environment and many of the more "wild" behaviors would be out of place here.
Answer

this Question

...