This morning my cat had a litter of 4 kittens. I made her a bed in a box and she was fine with it. I went to sleep and woke up at 4:30am to the sound of shuffling and meowing, and saw that she was putting the kittens under the bed. Without thinking, I grabbed them and put them all back in the box! I was afraid it would be unsafe for them under the bed. She didn't pay attention to them for a while.
Well after trying to go back to sleep she brought one kitten to me. Then after 15 mins she brought another one! The other two are still in the box. I don't know what to do. Should I leave them alone? Or bring them to her? Why would she bring them to me one at a time? I'm afraid she will abandon them since I touched them without gloves.
Answers
April 23, 2018
0

found this helpful
Best Answer
There may be too many kittens for her milk supply. Supplement with formula.
April 23, 2018
0

found this helpful
Best Answer
Cats are very particular about where they want to keep their kittens. If you can fit the box under the bed for her let her do that. If not try a few boxes with bedding in the room you want her and let her choose. If she chooses your dresser drawer...well...it wont be the 1st time and they grow up fast. There should be no problem with you handling her kittens. She will be looking to you as a helper if you have a good relationship. I would put the kittens back in the box with the other two. With a little while to settle down she should get back in the box with the kittens.
4 kittens is a nice size family. She should not be overwhelmed. It can take a day or so for milk to come in. Make sure the room she is in is warm (very important), has a litter box and food and water available at all times. Keep this part of the house peaceful and quiet for her, with no other animals to bother her. She will come into heat again pretty quick so keep her in the house until the kittens are grown (5 months or so) and get them all spayed/neutered.Check with your humane society. They should be able to save you some money.
Answer

this Question

...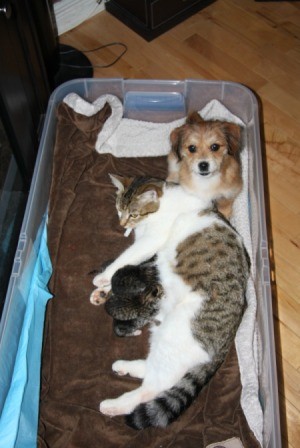 Does your cat bring you kittens at different moments? My cat Mable seems to bring me the ones that are not on the same schedule as the others. So which ever one is awake when the others are asleep, she will bring it to me to try and calm it down.
It never is the same one, it is almost like she is trying to get them on the same routine all together. Do you think it is possible? Can anyone else who has had experiences like this, please help? I think it is important to tell you that I helped her deliver 4 out of 5 babies, by her choice, and she has brought me every single one of her kittens on different occasions. She is also in heat big time. She is meowing quite a bit.
I don't know how to help or what she really wants. Also she lets Cara my female puppy carry the kittens and help her move them. This seems like pretty special behaviour. Any thoughts?
By Stephanie
Answers
March 14, 2015
0

found this helpful
Best Answer
Female cats who live together, especially siblings, will often help each other birth and care for babies. This is normal. It's more unusual for your cat to let the dog help care for the babies, but it probably just depends on whether she considers the dog a sibling.
Your cat brings her kittens to you so they will get used to being handled by humans. She realizes that they are domesticated cats who will have to rely on humans for for their food and shelter.
Less domesticated cats behave instinctively, fiercely guarding their kittens. More domesticated cats may realize that humans and dogs will play a big part in the kittens' future.
Answer

this Question

...
My cat just had her very first litter of 6 kittens. I have never been through this as a owner, but momma cat is worrying me because she keeps taking a kitten out of the pack and I don't know if it's the same one or a different one cause they all look alike. But she will randomly bring one out and do nothing. I put her and kitten back with the rest and then a good while goes by and she will do it again.
Tonight she brought one all the way into my room from the living room and I just grabbed her and her kitten and put them back out there. Why is she doing this? It really worries me for the kitten. What can I do to make her stop or is she trying to tell us something? Please help. I have never done this before.
Answers
July 16, 2018
0

found this helpful
Aww! Congrats on the litter.
If you are concerned about a kitten being underfed or shunned, you may want to talk to your vet about the best method to hand feed. It sounds like you can't tell if is always the same one. You could try a tiny dot of nail polish on the tip of the tail. That way you could tell if no is doing this with one or all.
Hopefully it is she is just proud of her babies and is sharing the joy.
This site has all the other options: catvills.com/.../
Good luck! Let me know how it goes!!
July 16, 2018
0

found this helpful
She is complimenting you! She trusts you with her kittens. Thank her, play with the kitten and bring it back.
July 18, 2018
0

found this helpful
I haven't had enough litters at my house to be sure what this means. I would be worried that the mom cat thinks there is something wrong with the kitten she keeps moving. Take mom and the kittens to be evaluated by the Vet. The Vet can show you how to feed the kitten if mom cat rejects it. There are good products available for this at the pet store, like KMR kitten milk. Watch Mom and the kitten to see if she is nursing the kitten. It helps to get a scale and weigh the kittens daily to see if they are gaining weight. This will help you and the Vet make a decision about what you can do for the kitten.
Answer

this Question

...