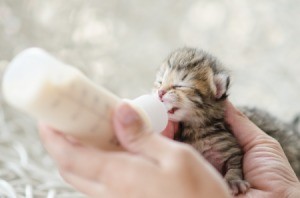 If you find yourself in the position of playing "mama" to newborn kittens, here are a couple of things we learned over the years. They need to be fed about every 2-3 hours to begin with. If you are unable to find or buy kitten formula, you may have to make it yourself in an emergency.
We've made up formula for newborn kittens several times over the years and have been very successful using this "formula". We've never ever lost a kitten, thankfully. If you are raising more than one, then make up enough to last one day, but no more. Refrigerate it, and only take out what you're going to need each time. Bring it to a temperature of 98-100 degrees F.
We always keep brand new eye-water droppers in our medicine cabinet. They work for many different things and are just the best for feeding baby kittens or baby squirrels. (They probably would work for many different newborn baby animals). I buy several of the eye-water droppers at one time and always keep some glass ones and one or two of the plastic ones. The little animals take to the plastic ones best, as it's not so hard.
After washing the eye-water dropper, drop it in a pan of warm water (100 degrees F) and after using it, drop it right back into that pan of water to make it easier to clean between feedings.
Have some old socks ready to place the baby kitten in. It will act as a bib and will also help keep those tiny little nails from clawing your hands to bits and pieces. They are incredibly sharp and baby kittens (as helpless as they really are) are also quite strong. Without that sock pulled up to its little chin, you're going to have milk all over you, the kitten, and anything else close by, but very little inside the kitten.
Making The Formula:
Ingredients:
canned Carnation milk
dark Karo syrup
boiled water (just like making a human baby's formula)
The syrup is to keep the baby kitten from becoming constipated and also acts as part of the nutrition.
Directions:
This is for one kitten being fed every two hours who will take about 1/2 oz. per feeding, more or less, depending on size and age.
Do not try to overfeed, but keep them awake for as long as possible to make sure they are not going to sleep hungry. You will need to make up this amount of formula at one time.
Put 2 oz. Carnation milk in a clean jar which has a good lid.
Add 3 oz. boiled water which has been cooled slightly.
Add 1 tsp. dark Karo syrup.
Stir up these 3 ingredients really well, making sure the formula isn't too warm to give to the kitten.
Put about 1/2 oz in a cup and set the cup in a pan of warm water. NOT HOT. Warm.
Put the little kitty in the sock, and hold it together under the chin. Don't choke the baby. Fill the eye-water dropper with formula and very gently offer it to the kitty. If it gets a taste of it, it will hunt the source, so just let it find the end of the dropper and begin to suck. Gently squeeze the rubber part of the dropper, but be careful not to drown the little fella. Feel its little tummy. You can tell when it's full. It'll want to go to sleep too.
If the kitty has or develops loose bowels, don't use the Karo syrup. If the loose bowels continue, boil some rice: 1/2 cup of rice in 4-5 cups of water for about an hour and just pour off the water. Use that water to add to the Carnation milk. Rice water will help stop the loose bowels for kittens, squirrels, and human children. It's an old-time remedy.
Once the kitty has started growing, it will not require such frequent feedings. You'll be able to tell when it's hungry. You'll hear it crying a lot. Then feed it.
We always washed their faces and eyes with just regular milk. Why, I'm not sure, but it worked. On the farm, we used just plain old whole milk from the cow, but I've used homogenized milk too.
Many things like this, we learned from my grandmother, but we also added a few things over the years as we learned. (like using the socks, for instance).
Source: My grandmother taught us to do these things, so we always did them, and they work. I would use this today if I were raising a baby kitten and unable to get to a vet or buy baby kitten formula
By Julia from Boca Raton, FL
November 12, 2004
1

found this helpful
Emergency Formulas to make at Home:

Formula #1
Combine 8 oz. homogenized whole milk, 2 egg yolks, 1 teaspoon salad oil, 1 drop liquid pediatric vitamins (optional).
Mix well and warm before using. Keep refrigerated.

Formula #2
Mix 1 part boiled water to 5 parts evaporated milk, 1/2 teaspoon bone meal per 16 oz fluid.
Mix well, refrigerate, warm before using.

I have found it is very difficult to hand raise kittens, but worth it. You have to work to get them to take the formula, and then make them go to the bathroom all the time. I kept mine in a little drawer with a hot water bottle and fed formula out of a bottle and washed the kit's face off after each time. It is like trying to stuff toothpaste back into a tube, but they get it. They only need a small amount. They have to be burped. Little back leg lifts get rid of constipation, as does a little milk. They need the exercise to get the bowels to moving.
They are so sweet, I end up keeping some of the kittens I hand feed especially if I messed up and spoiled them rotten!
-Robyn
I wanted to update you in regards to my previous request "Caring for a kitten". Unfortunately I have some very sad news. My baby "George" passed last evening around 11 pm. He really gave a valiant effort with his will to survive, along with the tender loving care he received from me the past few days.

One of the guest posts, "susanna" made a very important suggestion to me as to bathe George ASAP for there was a fatal anemia contracted from fleas. Well I took your advice and bathed him in baby shampoo and much to my horror he was infested with them. He began a spiral downhill from there. He was gone within hours.

My boyfriend was so kind to step in as he saw my grief well up. He sweetly talked to him, encouraged the little guy, and insured him he was loved very much. We will have a small burial for him this evening. I can honestly say that we did all we could for him. He was blessed in a way that many kittens never are that were in his same situation. He had a few beautiful days full of love and affection, along with good eating's that was provided for him.

The Wal-mart kitten bottle and kitten powdered milk worked wonderfully. Again. I want to thank all of those who were kind enough to help us in this time of need. Many blessings to you and yours. Oh yea, you may wonder about the name George. Well we have an older kitten we named Gracie. So here we had George Burns and Gracie Allen as so it seemed. Bye for now.

LorisZoo from AZ




Answers
By Hannah Wilson (Guest Post)
May 25, 2006
0

found this helpful
I'm so sorry to hear of the loss of little George. I know he had a wonderful life with you. If you believe in a rainbow bridge he will be waiting for you healthy and happy. Sending hugs your way. Hannah
May 26, 2006
0

found this helpful
Oh, so sorry about little George. You did your best and know that the poor little guy is not in pain or anything. It is so difficult and I just want you to know I'm thinking about you both. ~ Holly in Ga.
May 26, 2006
0

found this helpful
I am so sorry about George. I cried, I love animals. Prayers for you during your time of grief.
By (Guest Post)
May 26, 2006
0

found this helpful
I am so sorry to hear of your loss. I know only too well of the devastating emotional effects taking care of and losing a little one you tried so hard to help. I truly believe those little ones who die so soon after, are brought to us because God knows that the last few days or weeks with us will be good ones and they will go out better then they came in. God bless you for your effort and comfort.
By Karen (Guest Post)
May 26, 2006
0

found this helpful
I'm so sorry for your loss. It is very hard to lose an animal when you were trying so hard to save them. I will keep you in my prayers
May 26, 2006
0

found this helpful
Loriszoo - I am so sorry to hear about George's passing. I hope that you find comfort in know that you did all you could for him. You might want to print out this page for the next time, and it will happen, another "George" decides to adopt you.
Take care. Hugs from Texas.
May 27, 2006
0

found this helpful
I'm so sorry about George's passing. Please know that he knew he was loved very much during his short time on earth.
God bless you for rescuing him
take care, claudia
June 1, 2006
0

found this helpful
Do not feed a kitten cows milk.
They tend to be lactose intolerent to cows milk,
and it will give them stomach cramps, and
the poos.
I know some vets rip people off, and that they are
expensive, but they can give the kitten fluids if
it is dehydrated. If they get dehydrated it can cause
brain damage. So better a few dollars short, than
a dying kitty. Good luck.
By Tammy (Guest Post)
June 18, 2006
0

found this helpful
My best friend told me tonight about the butt rub thing and it worked great. My kitten is only 13 days old and we bottle feed her. she is eating great and growing and now pooping, whew!
By Mary (Guest Post)
July 7, 2007
0

found this helpful
Just to let you know. We had a cat that had 3 kittens and then got ill. We took her to the vet and on day three she passed away. The vet sent us home with tiny bottles, a recipe for kitty formula and the three orphaned kittens....that was nearly 17 years ago and my cat, Callie had lived a long and full life. Aside from arthritis, she is very loving, normaly and heathy. I am currently in the process of resueing a kitten from a friend. Her neighbor had tons of Cats, dozens of kittens and this baby is being pushed out of the nest as Mommy Kitty probably hasn't enough milk for all four. Will let you know how it goes. I also have an 8 year old.
By joe (Guest Post)
July 31, 2007
0

found this helpful
they are 2 weeks old. Only 1 of them has one eye that is still close, i was wondering what to use on him,to help get the eye to open.
Read More Answers
My beautiful, but young, cat named Dinah just gave birth to 5 equally beautiful kittens this morning. Dinah was a stray that my boyfriend and I accepted in our home in October, and weren't very surprised to learn of her pregnancy.
Anyway, I know at this point, none of them can see, hear, or smell, so I've been worried about them finding the nipples to feed. Even when I get them to the nipple, they turn away and whine. They have been eating, some more than others.
I guess I'm just wondering if this is normal, and also nervous that if it comes time for me to feed them, I won't know exactly when to do so. Please help. Thank you.
By Sarah from NY
Answers
November 26, 2009
0

found this helpful
Good Morning,
How wonderful for that cat that you and your boyfriend are helping her. I worked for may years as a vet assistant, so my advice comes with knowledge you can trust. This may sound simplistic to you but the best thing for the next week is to just leave mom and babies alone. They know what they are doing and will find the way to the teeth. The best thing is to make sure mom feels safe and secure.
So I don't know where they are now but a nice box with blankets in it in a quiet spot in the house, like a spare room,, where there aren't people coming and going or other pets. Make sure mom has access to fresh clean water and lots of it, and start feeding mom kitten food. She will need the extra calories. If you notice a kitten going downhill fast you can get milk re placer and a bottle from your vet to feed the little one. Don't be surprised though if one does die or mom refuses to feed the sickly one. Somehow they seem to know when a baby is not going to live. It has been my experience that the ones that mom refuses are sick for a reason. For example I had a litter of kittens and mom refused 2 of them, I tried my guts out trying to keep the little ones going and as it turned out they had malformed stomachs, so no matter what I did they were not going to live. So mom really does know best!
So give mom good food lots of water and let her do her thing,try not to interfere too much. Last but not least, enjoy the experience, watching babies grow is a lot of fun and is very rewarding! If you are able, mom and babies should go for a vet check at 2 weeks old. And by 12 weeks all the babies should be in new homes or ready to go to new homes! Cats can be hard to find homes for so you may want to start looking now! Also, until babies and mom are older say 3 to 4 weeks old don'00t let strangers come and handle the babies. Anyway have fun and let me know how it goes!
vb37714 AT gmail.com
November 27, 2009
0

found this helpful
Hello!
Thank you so much for replying back! It really means a lot to me, even after all of the reading I've done, I'm still nervous, and your advice has helped a great deal.
Dinah had given birth in the living room, on a few towels. After a few hours when we felt she would be comfortable with it, we lined our big box with towels and placed the kittens in there, and she jumped right in. Then last night, she started picking them up, one by one, and moved them into the back of our closet. So, trying to follow her orders, we emptied the closet and put the big box of kittens in there. She seems a lot more comfortable, and I've been trying to keep my distance! Hahaha.
There is one small black kitten that isn't being refused, but doesn't seem as strong as the others. I help when I can, getting it to a nipple, but it just isn't as forceful as the other four. I knew that it's not uncommon for that to happen, I just wish they could all be happy and healthy, just like any other person would.
Now, I know that she needs her own time, and will leave the box to do her own thing, but how long is long enough? Sometimes she'll just wander around the house, and I get nervous that the kittens won't be warm enough. Is that just another step I need to take back? I know I need to let her be mom.
Anyway, here is a picture of them when they were just a few hours old. :)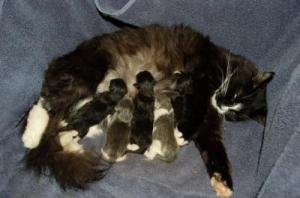 November 29, 2009
0

found this helpful
Leave it all up to mommy now and Bless you for posting a picture! Please don't worry and those babies will be wandering around on their own soon enough :-) They do need to be completely weaned (about 10 weeks) before finding them homes though!
Answer

this Question

...