October 21, 2010
0

found this helpful
I would ask the vet about a product to use on the nursing mama cat, and then if it were me, I would flea comb the kittens, to get them off manually and drop the fleas into a cup of soapy water. Also you can use a lice comb for fleas, and then it can have double use later.
This article has a skin so soft recipe, but I have not tried it as of yet. If there are just a few fleas on the kittens, get aloe baby wipes and go over the coat, softly down to the skin. Don't make the kitten wet enough to be cold, and then go over kitten with a lice comb or flea comb. This is what I would do with a small amount of fleas, with a large amount, I would bathe in warm water, with tear free baby shampoo, and lid full of peroxide. Mix this and bathe the kitten. This is iffy, because if the kitten gets cold it can get sick.Too many fleas will kill the kitten from anemia.
Immediately put in in the bed with a warm hot water bottle for it and cover it with lots of absorbent towels, and place it back on it's mom. Poor baby kittens with fleas have such a hard time. As far as the worms go, all kittens have worms when they are little, most of the time, that is why their little bellies stick out.
Just remember to keep the babies warm and check with the vet about worms on the mom, I am wondering if they have a pill that will kill all of them or not like they do for doggies.
Go over the babies all the time with the aloe wipes, it is supposed to discourage fleas, it will not get rid of them, just discourage them, and it makes them happy, especially if you softly brush them like their mommy licks them, along the face and body, they feel like they are being groomed and loved on my mama cat...:)
Blessings,
October 24, 2010
0

found this helpful
Once the fleas are gone and the cat and kittens are healthy, try feeding them brewer's yeast tablets. I learned this years ago when we went through a bout with fleas here. Some cats willingly eat the brewer's yeast tablets; one of mine liked it so much she used to eat it first, before eating the food in her dish (we laid the tablet on top of the food). It makes their blood taste horrible to the fleas and the fleas stay away. If there's any chance the cats can pick up fleas again, this might prevent it from happening. We never had flea problems again, because we stopped watching other peoples' pets for them in our home (a dog we watched left his fleas behind). My cats are strictly indoor cats so there's no chance mine will pick up fleas, but if you let your cats out, and they'll eat brewer's yeast, it may be enough to ward off the fleas. It's a natural product, and also has health benefits, as I recall. Brewer's yeast comes in powder form too that can be mixed into food, but if they don't like the taste of the yeast, the cats won't touch their food. As I said, some kitties like it and others don't - but it's worth a try.
November 13, 2011
0

found this helpful
My cat had 4 kittens 3 weeks ago, and I noticed that they had fleas on them. I didn't know the mother had fleas as I've been regularly using frontline on her, and she is also totally black, so you can't see fleas on her. I want to bathe them but some people say you can and some say you cant!
Also, if you give the mother a flea tablet. Will it filter through to the kittens and kill their fleas?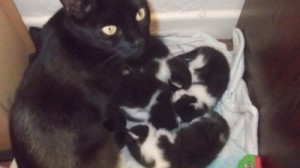 May 22, 2013
0

found this helpful
As far as the flea problem, vaseline dabbed on the flea slows them down and makes it easier to comb them out. Good Luck, we just had 6 kittens and are having the same problem.