How can I get rid of fleas from my 1 year old cat and her 3 day old kittens?
Ashley
Answers:
Fleas on My Cat and Her Kittens
Hi Ashley,
We had the same problem, and were at our wits end until our vet told us to do the following. It seemed a little unorthodox, but it worked. Because the babies are so young you can't actually treat the mother or babies with out harming them. What we did was we purchased a lice comb from the pharmacy, and combed the mother out daily. We also used a separate comb to come out the babies once they turned 2 weeks old.
We also purchased an aerosol flea spray (from the vet) to spray down the area the kittens and mother are in, along with the rest of the carpets and furniture, we then vacuumed to get rid of the fleas and residue.
However before we sprayed, we made sure the area was well ventilated, and then we moved the kittens and mother to an area where the spray wouldn't be near them. We put them in the bathroom with the fan on and a blanket at the bottom of the door, so they spray wouldn't leak in, then moved them back to their area a few hours later.
This seemed to take care of the problem until the mother and kittens were old enough to be treated. We however did treat the other cats in the house for the fleas.
This was a bit of work, but we were quite surprised that it actually worked quite well. And I am happy to say that it is 2 years later and our home has been flea free, since we took these steps.
The mother and the babies seemed to enjoy the extra attention they got from their nightly combings. Actually it got to the point when they saw any comb they would come running for a combing.
I hope this works as well for you as it did for us.
Dina (09/25/2006)
By Dina
Fleas on My Cat and Her Kittens
I have worked for a Veterinarian for over 27 years. This is what our Doctors recommend: Yes, you can give the kittens a bath...this will kill most of the fleas, please use a non-tearing shampoo. You can treat the Mother with Advantage (you can purchase this at your vet's office). The fleas can actually suck most of the blood out of the kittens, so they are at risk. Make sure the bedding is clean. If you see salt/pepper like droppings in their area then the fleas are still there. Good Luck! (09/26/2006)
By Sherri
Fleas on My Cat and Her Kittens
My 1 year old cat had to have an emergency C section. Since she had been pregnant, she had been in the house with no signs of flea problems. When she came home from the emergency vet, her and her 6 babies were infested with fleas. I didn't know what to do. I remembered from when I was a kid, my mom taking fleas off puppies with a cotton ball and alcohol. So, I did that for a little while and seemed to be not making much headway. The alcohol was also cold to the kittens. So, I tried my son's Johnson's Baby Shampoo with natural Lavender (the purple shampoo with lavender and chamomile for human babies). It worked great. I washed them one at a time. Soaping their bodies up, rubbing the flea areas really good and rinsing until I saw no more fleas. I did not put soap on their heads, I picked the fleas off their heads with my fingers. Some of the kittens are long haired, what few fleas I missed fell off dead when my son blew the kittens dry. The mother, I could only comb with a lice comb because of c section incision. I did not put them back in the same bed. The bed that they were in went outside and I treated the area with a kitten flea spray. They are happy little babies now. The Johnson's Lavender Baby Shampoo worked really well and they smell good too.
Maybe that's why my kids never got any of the fleas on them.
Good luck to anyone with the same problem.
(b)(/b) (05/25/2007)

By Geek Chick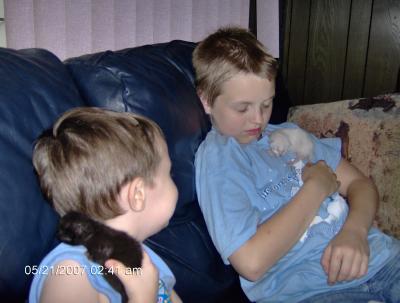 Fleas on My Cat and Her Kittens
My cat and her kittens have fleas too. I called my vet. She said that you can not bathe a mother cat because she needs all her oil while nursing. You can not bathe newborn kittens at all, with anything. The only thing she said you can do is to put Revolution on the mama cat (and it has to be Revolution, not Advantage or Frontline, or anything like that), and then comb the fleas off the babies with a flea comb. (09/03/2007)

By Courtney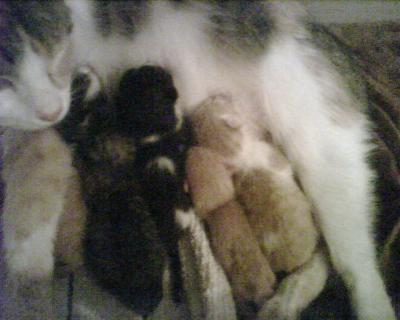 Fleas on My Cat and Her Kittens
Take the kittens to the vet and the vet will apply a quick dose of front line flea killer. It works quickly in 24 hours. There is a small charge but well worth it. You should never bathe kittens or apply salt to the litter, because it can harm them. Jenny (11/12/2007)

By JENNY
Fleas on My Cat and Her Kittens
I had the same problem and went home yesterday after reading all the posts. I tried the Palmolive Dish Soap and it worked like magic. The fleas fell of as well as the flea dander. I also used the flea comb for those that were closer to the skin and once pulled off, they were also dead. Thanks for all your help on this page. (05/21/2008)

By Jen
Fleas on My Cat and Her Kittens
My cat just had babies 3 days ago. They are also infested with fleas, but we're in FL, so what do I expect. I'm treating my mother cat with a topical solution (Advantage), and the babies are getting a brisk 3 minute bath with Dawn dish washing soap, and then any remaining fleas will be removed with a flea comb, they they're blow dried since they're so small. Lastly, before putting them back in their box, the bedding is going to be treated, but since the spray is for kittens that are older, they're going to have a temporary box thus, giving their bed box time to air out. I called our local Animal Aide, and they said the steps I was taking were fine, the only thing they recommended I do differently, is perhaps use baby shampoo. Only because it's non tearing, just in case some of it got on their face, even though their eyes aren't open. Hope that helps someone! (06/04/2008)

By Lynn
Fleas on My Cat and Her Kittens
I am so thankful that other people out there are having the same unfortunate problem as I am. My cat just gave birth to kitten a week and a half ago and the mother and the kitten are infested with fleas. Like you, I read on the bottle of all of the meds for fleas, and regrettably, there is nothing that can be used on kittens. I was stricken. I have my new babies and the poor little precious babies have icky bugs crawling all over them. I hated it. I also hated the fact that their was nothing I could use. I picked as many off and used a comb but when I go back there are more.
I clean their bedding daily, changing it and treating it with flea and tick powder. For the mother, I used a flea collar when she was not around the babies and also bathed her with dish soap and used flea spray on her. I dried it very well and washed her underbelly with warm water so that the flea solution would not be licked or accidentally ingested by the kittens. The best thing to do is to make sure their bedding is changed daily, and you keep the problem within one area so your whole house isn't covered. This can be a VERY expensive problem to deal with and it really is best to take care of it right away because they multiply like you wouldn't believe. Good Luck! Also, thanks to everyone who posted. You helped me too!
(07/16/2008)
By Amber
Fleas on My Cat and Her Kittens
Good advice from all. I recently found a kitten at work and took him home since he was on his own at such an early age. He has a moderate amount of fleas on him so I called the local vet. She said that you can use a spray for the kittens (frontline) but you need to wet the kitten and then SPRAY A TOWEL and wrap the kitten in the towel except head for ten minutes. Another option is to use a Q-tip and go after them one by one with the spray on the tip. Hope this helps. So far I'm trying a little of both doing the body wrapping, I noticed a far greater concentration around his head. Tomorrow I will go after the remaining ones with the Q-tip. Good luck. (07/16/2008)

By Jeromy
Fleas on My Cat and Her Kittens
I have kittens that are 2 weeks old. I called my vet and then went and picked up Revolution for them. I was surprised, but there is a small dose that can be used on them. I put the dose on and fleas are dead! So call your local vet, even if you don't have one, you can go buy it there. Good luck to ALL! (07/25/2008)

By tiffany
Fleas on kitten
We got a kitten four days ago, he is only 8 weeks old. I realized that he has fleas because he had flea dirt all over him and my mum saw one crawling on him. My poor little kitten was biting himself and scratching, so we phoned the emergency vet and they said to get frontline spray and spray it on him.

So we went to the pet shop and asked for frontline, but they said that they're not allowed to sell it and that only vets can give it to us (the vet was closed because it was on a Sunday), so we got him flea shampoo and flea spray for the house. We bathed him and sprayed the house. The shampoo didn't do much, it only removed the flea dirt and only killed one of the fleas.
He was still suffering from the fleas because he still scratched and bit himself. So we took him to the vet two days after, they sprayed him with frontline and we saw all the fleas coming out. We thought he only had three or four fleas, but he had hundreds! Poor little kitty! I think he's ok now, so this is my advice to everyone with this problem.
Thank you (10/14/2008)

By Nikoo
Fleas on My Cat and Her Kittens
My cat had 4 kittens two weeks ago, after mom had babies we found out mom had fleas that she gave to her babies. I went to the local pet store and bought spray that was safe for mom. I sprayed my whole house, today my boyfriend noticed that the kittens had fleas. Mom got a bath and a combing, and I very carefully washed each kitten with dawn dish soap, and then we combed them with a flea comb.
To make sure that they didn't get cold, I warmed towels in the dryer making sure that they were not too hot for each kitten. I also used my blow dryer on low to finish drying them. The only thing is to make sure that mom is locked away, because mine went crazy on me, biting and trying to take the kitten away. I don't think we got all the fleas, but they are definitely better than what they were. Tomorrow, I am going to vacuum and spray the house again, and I'll probably give them another bath. I am going to call the vet on Monday and see what else we can do for them. (10/24/2008)

By Ashley