My dog won't go to the bathroom if there is snow on the ground.
By Peter from Willingboro, NJ
Answers
January 31, 2011
0

found this helpful
Best Answer
When I was living at home, I'd shovel a path and a little area for my dog to do his business. I don't know how practical that would be for you, but perhaps it's an option.
January 31, 2011
0

found this helpful
Ditto with mrs.story about shoveling a path. It may not be convenient for you but it's doable and I know first hand from having lived sixteen previous Michigan winters with a resident seven pound poodle that it's better to make the effort to shovel rather than having the potty happen in your home. ;-)
January 31, 2011
0

found this helpful
My dog does this too. She can't stand to go potty in the snow, sleet or cold mud. Doesn't matter if we shovel a path or not, her 'footies' are still too cold & she doesn't want to squat-can't say I blame her! Lol! She can be pretty frustrating in the winter, a lot of times I'm the only one who can make her go,using my no-nonsense voice on her (she knows everyone else isn't serious), but she looks completely pitiful & abused the whole time!
We are just beginning to get the sleet here in Tulsa, from this big storm coming in, so I imagine she will have her legs crossed most of the next few days!
November 19, 2011
0

found this helpful
I'd like to know what to do too, because I have a 4 month old Catahoula/ Lab cross whom I had pretty well potty trained until the ground froze. Now she would rather poo in the bathroom and pee wherever. She has a spot over in some tall grass, but she has to cross our frozen driveway to get to it. There's something about frozen mud that she really doesn't like. I know its cold, but so is the rest of the ground. What do I do?
She's the one on the left, Louie is the one on the right.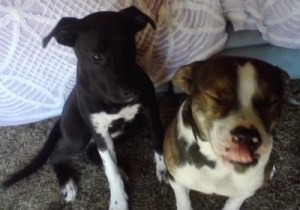 Read More Answers