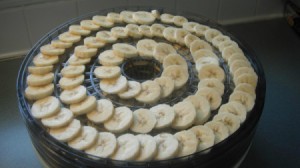 During the summer months, I enjoy eating frozen bananas, but now that it has turned cold, I have a new craving and it's for dehydrated bananas. They are so good, I have to watch myself and remember that 28 pieces is a whole banana. I don't put anything on the bananas, I just peel them, cut them, and put them in the dehydrator.
The first batch of bananas I dehydrated stuck really badly and it was so hard to get them loose from the tray. It was a mess. So, for the next batch I dehydrated, I stacked them in circles so only one edge is touching the tray. This method worked much better.
When they begin to get dry, I run a pancake spatula around the tray under the bananas and they come up with no problem. During the drying process, I turn them over and alternate the stacking of the trays, putting the bottom trays on top and the top trays on the bottom.
It takes 5 to 10 hours to dry a batch of bananas. It depends on how many you put in the dehydrator. I'm new at this and still learning. Dehydrated bananas and nuts make a great snack.