Easily Removing Cat Hair from Bedding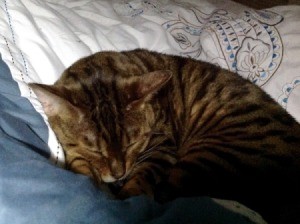 I've had several surgeries on my back and shoulders and can't stand in one place very long. I have two cats that sleep with me. My bedding, especially my comforter, is always covered with tons of cat hair. Every other day I try to use the hair/lint remover brush on the comforter. I have a queen size bed and by the time I'm done, (usually before that), my back is killing me. There must be an easier way to do this! (I live alone too and can't launder my bedding as often as most people because of my back/shoulder problems. I have no friends or family.) Any suggestions? Thanks in advance!
Add your voice! Click below to answer. ThriftyFun is powered by your wisdom!
April 22, 2018
2

found this helpful
Best Answer
I would suggest try brushing the two cats, it would also be easier on your back as you can have each cat sit on your lap, I imagine the cats would love it and I think you would enjoy it too.
I should have started when they were kittens. Both cats like to be brushed but only for about 10-15 seconds (they're Bengals). I have several different types of brushes but need to be disciplined about doing it. (That's not true that you can't teach an old cat new tricks :-)). They can acclimate. Thank you!
April 23, 2018
1

found this helpful
Best Answer
I have something called the Rubba Scrubba. I bought it at flylady.net. The bristles are soft plastic and pick up all kinds of hair.
Thanks... i'll definitely look into that! I currently have several lint removers/hair remover wands but they're so small, it takes a very long time to do my comforter.
April 23, 2018
1

found this helpful
Best Answer
I lightly sprinkle a clean dishwashing glove with a bit of water and run my hand across it with it.
Yes, I've heard this one before but never tried it. The bathroom sink is right across the hall so I can use both hands and rinse :-)). I'm willing to try anything...thank you!
April 24, 2018
1

found this helpful
A rubber dish washing glove slightly damp does a good job but you still have to cover the area swipe by swipe.
Brushing the cats daily is the best beginning and cats shed more as warm weather sets in so maybe there will be less fur in a few days.
The damp rubber glove will work on the cats also but they may not like it.
Some cats like to be combed while others hate it so maybe you can find something they enjoy.
They sell lots of "cat grooming" gloves at Walmart type stores as well as pet stores and on line so you might find something that will work for you.
Some people say the microfiber cloths work but I have not tried those.
You will have less to clean up if the cats will let you groom them daily.
Perhaps throwing a sheet over your comforter might be easier to deal with - at least it would not have to be done everyday - just put the furry sheet in the basket (until later) and put on a clean sheet.
Try removing fur from your sheets by throwing them over the back of the couch (or?) and stand up to clean off the fur.
You're certainly right about them shedding more when the weather begins to get warm! I LOVE your suggestion about throwing a sheet over the comforter...OMG, that's the easiest way to deal with it because I can then throw the sheet in the wash - IF they don't mind sitting on a sheet, which they generally don't like.
Yes, they like the cushy soft stuff. But I'm going to try that one too. Thanks!
May 9, 2018
0

found this helpful
I use a wet dishwashing glove with one swipe across the area, it's all gone!
Add your voice! Click below to answer. ThriftyFun is powered by your wisdom!
Related Content