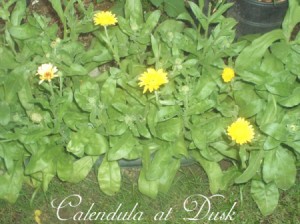 I planted two tubs of Prizehead lettuce, One of the best. I forgot to plant more a couple weeks later. I went to cut some for a salad, this evening. I barely had a thimble full... and I was all set to pig out on Prizehead.
I scrounged around and cut a few tops from my very young Golden Purslane. Still not enough to cover the bottom of my salad bowl. I thought 'What would Robbie do'? (Robbie was an orphaned baby rabbit who befriended me). He ate most of my Bachelor Buttons. Well, if they are good enough for Robbie, they are good enough for me. Lucky me, he left a few leaves unscathed. I gathered them. Almost there!
Earlier, I had planted Calendula in a front flower bed. When they were about a foot high, a neighbor asked, 'Doug, what kind of lettuce are you growing there'? I explained that the plant leaves just looked like lettuce, and that it was a flower named Calendula. Bingo!
I went to my Calendula bed and cut several tender leaves. Then, I went to the kitchen with my cache, washed and dried it and tossed a rather sumptuous salad, which I topped with a cucumber ranch dressing. Golly, wish I had boiled and chopped eggs, earlier.
The Bachelor Button leaves were quite tasty (Robbie knows his stuff). They had much more flavor than, say, buttercrunch lettuce. Still, they were much milder than those tongue numbing mescluns. The Calendula leaves? Good. Not outstanding, they taste pretty much like the average leaf lettuce.
So, there. If you have a garden or flower bed, don't be afraid to rummage through them for off the wall salad ingredients. You might be pleasantly surprised.
Note: If in doubt, always Google any plant you're unsure of to make certain it's edible.
Robbie would approve.