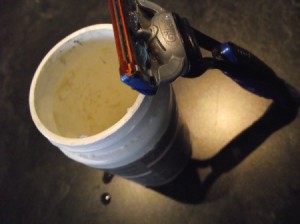 If you prefer using razor blades for a nice close shave, store them in coconut oil.
Find a plastic container just large enough to accommodate the width of the razor. Add coconut oil and warm in the microwave just a few seconds until the oil liquefies. Add razor. Place on a shelf in shower or bath enclosure, away from water flow, on a shelf beneath the showerhead, ideally. The heat of the shower will keep the oil in liquid form.
When using, periodically dip the razor into the oil. The oil creates a nice barrier, helps protect your skin from nicks, as well as providing a smoother shave. Other oils are effective but quickly turn rancid.
Blades last at least five times longer than usual!