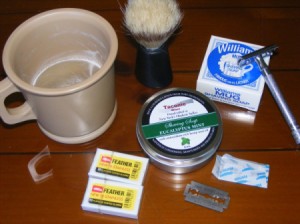 Shaving! One of those things most of us guys do. A necessary evil. It's nuts how much we can spend on razors these days. "But we have no choice if we want a good shave!", you may say. Well actually we do. Remember the old style razors you may have used or seen your dad or Grandfather using way back? The "double edge safety razor" is what I'm talking about. Not the old fashioned straight razors from Little House On The Prairie or the first Godfather movie but the type with the thin, flat double edge blades that came in the little boxes and you install them into a re-useable handle. Ring any bells? Guess what? You can still buy and use them! More on that later.
Starting around WW2, pretty much everyone owned a safety razor and just bought the flat DE (double edge) blades for it. Incredibly cost-efficient and sensible. Then by the mid 70s Gillette wanted to make more money. They once had the market share for the DE blades but by this time their patents on the blades had long run out and there were too many companies making blades. Profits were down. The solution was to invent a superior way to shave and convince people through savvy marketing that they needed it and all of a sudden the way we had been shaving for years was obsolete and un-cool. Of course anything superior costs more (and makes more profit). This superior way to shave was the proprietary cartridge razor system that is mostly used today in our wealthy part of the world. So precious are these blades that they are commonly locked up and require permission and a chaperone to buy them! Ha!
So the question must be asked. "Do we really need multiple blades with space-age coatings on a pivoting head with special lubricating strips to get a good shave?" In my opinion, no way! I personally feel that I get a better shave using my DE with less irritation than with a high-tech expensive cartridge blade. Of course like a lot of things, there is a method and a certain learning process to using a DE razor. Some blades and handles work differently for different people so there may be a bit of trial and error involved to get started. It's not rocket-science or anything, there is just a learning curve and it can take some practice to master. Most DE shavers choose to use quality shave soaps that they whip up into lather using an old-school shave brush and bowl. The term wet shaving is used to describe this. Google or Youtube the term and you will find more than enough info.
This brings us to the reason I am writing this and posting this here. Cost. DE shaving can be the cheapest way you will ever find to stay well-shaved (and along the way maybe turn a chore into a bit of fun!). There are many razors, blades, brushes, soaps, etc. out there and you can spend as much or as little as you want. Amazon and eBay are flooded with this stuff. Even Walmart has a basic brush and soap. Good quality German made handles can be had for $30 which will last a lifetime. Blade prices can vary. You can find 100 packs of good blades for $15 shipped. The blades I like cost $30 shipped for 100. You can usually get several shaves from a single blade but it can vary wildly based on the blade choice and beard/face type. I get 6 shaves per blade and shave every other day so my 100 pack for $30 will keep me shaved for 1200 days! Wow! Thats over 3 years! $10 per year after buying my one-time $30 razor and some shave soap. 30 cents per blade that lasts me 6 shaves. 5 cents per shave and these are the more costly blades. You get the picture. This is how it should be.
Thanks for reading this and I hope you found this blurb interesting. If after reading this you decide to look into wet shaving/DE shaving a bit more you may be surprised to find out how much of a come-back the DE shave is making. In this age of over-priced/over-hyped consumerism I was happy to discover this low-cost solution to another daily expense. Not to mention the environmental impact the switch can make. And with that I conclude. Good luck and Happy S(h)aving!