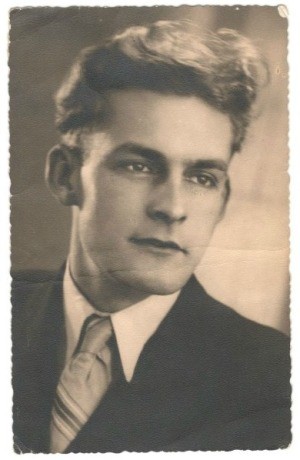 My father shaved every Saturday night after his bath. The smell of the week's sweat was washed away, replaced by the clean light fresh smell of the Sweetheart soap he used.
The week's stubble needed to be removed and the slightly peppery scent of Old Spice added to his face to mix with the Sweetheart soap smell. It was shaving day.
Our bathroom didn't have a sink and mirror to stand in front of while he tended to his weekly ablution. The bathroom was small, with only a flush toilet and a bathtub, a room with a little window dressed with a frilly white curtain.
He shaved at the kitchen table. Once a week after supper and the table being bare, my father took out his "stuff".
His stuff consisted of a white and red metal box with a lid, in which he kept an old coffee mug with a broken handle. In the cup was a round cake of white shaving soap about 1 inch thick when it was new and thinner when it was well used. A brush with a wooden handle lay beside the cup and sometimes it had the dried soap crystals stuck on it, left over from the previous week's shave. The razor with a screw on handle was there too, open and ready for a blade to be put in. A box of Gillette double edged blades and a stypic pencil finished off the contents of his box.
He carefully set a red steel cup filled with hot water on the table and rested a round mirror against it. Next to the mug was a 6 inch length of toilet paper. He always nicked himself during the shaving process and after dabbing a dot on his face from the pencil, he stuck a small piece of paper over the cut until the bleeding stopped. Sometimes he nicked himself in 2 or 3 places and had little hunks of paper hanging on his face. He looked so funny then.
My father's beard wasn't a heavy one but the week's 1/8 inch brown stubble was shaggy looking. It was uneven, some places having a heavier hair growth than others. And it was pricky.
Before he shaved, I remember that I liked to rub my young girl's cheeks against the pricky growth and feel the scrub against my face. It felt good and I took in the clean Sweetheart bath soap scent.
Dad always took his time shaving. It was a slow and methodical undertaking. My brothers and I knew not to bother him because he was in his own space for 15 minutes or so. This was his time and his alone. He ignored whatever we might happen to say to him. We did watch him though as he wet his brush in the hot water, swirled it around on the round cake of soap, looked at it to see that it was soapy enough and if it was, to gently slowly swirl the lathered brush on his face. He was giving himself a lingering facial massage. Maybe, for a minute, he daydreamed about a young sweetheart's fingers gently caressing his cheeks. It was a sensual lathering.
After the shave when he'd removed the dabs of toilet paper from his face and rinsed off the leftover soap at the kitchen sink, he was approachable again. We could talk to him and he would answer.
Old Spice was the only aftershave he used and he used it liberally. He washed his face all round with it and rubbed some into his neck, over his arms and into his hair. Oh, how I loved the smell of that after shave.
When he smelled so good and with his face so smooth, again I'd rub my cheeks against his. I'd nuzzle deep into his neck. I inhaled him. He was my Dad and I loved him dearly. I remember.
I'm 67 years old now and Dad has passed on. In his later years, he refused to own an electric razor. He refused to have one of "those fancy razor things". He refused to try a new aftershave. He was as much a part of Old Spice as Old Spice was a part of him. I remember.
Fortunately, after his passing and things were upside down, I remembered to take the by now battered and dented white and red metal box with all his "stuff".
And whenever I catch a whiff of a gentleman's Old Spice aftershave or cologne, be it even for second as I pass by a stranger on the sidewalk, I remember and it gives me a tender warm feeling.
The power of scent can't be touched or seen but it can be remembered and felt.
On a lighter note, my son now has his grandfather's beaten up metal box and he uses it for his shaving needs. He uses an old fashioned double edged razor too, his choice after having tried many of the currently marketed shaving systems. He wrote a thriftyfun.com piece about it called Saving Money Using Double Edge Safety Razors.
I've kept the red hot water cup. It's mine and I remember.