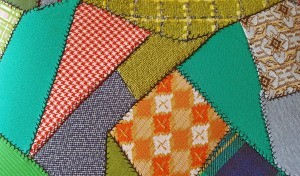 What is your earliest memory? I will tell you three of mine as I don't know which is earliest.
When I was little, the house was not heated past bed time. If the temperature was 10 degrees outside, it was 10 degrees inside, not long after we all went to bed.
There were lots of handmade heavy quilts and there were several scratchy wool Army blankets my older brothers brought home from service. I actually awakened tired and stiff after spending the night under all that weight. Being a small child, I quickly recovered on my barefoot way across icy linoleum floors to the kitchen's warmth. Mama was up and had started breakfast on her wood range.
One of my first memories could well be a tiny patch of velvet not much larger than a postage stamp. Red is not, and has never been, one of my favorite colors. But on one of those heavy patchwork quilts was a tiny piece of the most beautiful, most intense red one could imagine.
I could get lost just looking at that little piece of cloth. There was nothing else in the house with such a brilliant, yet soothing, color. And the texture amazed me, so rough when rubbed one way and so smooth when rubbed the other. It's nice, I think, the tiny things that can bring pleasure to a small boy of two or three.
Another first memory revolves around that same quilt with it's precious ruby gemstone disguised as a near discarded, tiny rag.
One night, again when I was two or three, I was in bed with Daddy on one of the most bitter cold Winter nights. There were several heavy quilts and probably a blanket or two on the bed. All together, it was very heavy, especially to a small child.
For a child of that age to have an intense fear of death is far beyond the worst nightmare.  During the middle of the night, I awakened. I was suffocating. There was no air. I could not move. I could not breathe.
Somehow, in my sleep, I had shifted down to the center of the bed. A mountain of cover had me locked down on every side. My lungs were hurting. I felt death was coming quickly.
To this day, I don't know how I managed to find the strength to move that just right bit of cover that allowed a bit of air to enter my little pocket of death. Gulping in that bit of air was hard and made my lungs hurt more. Gradually, I was able to take in more air and widened the little air hole for even more.
I survived with no apparent harm done. My Daddy was a heavy sleeper. I don't think he ever knew of my close call.
I'm more certain of the time when another first memory was formed. I was three years, four months old. This too, I can remember as if it was yesterday.
Mama bore nine children, eight of them at home. As far as I know, the same doctor attended all those home deliveries. His name was Clyde Ridge. The whole town knew Dr. Ridge was an alcoholic. No one seemed to mind. He was a likable man. People fondly joked about his demon. It was often said that he could deliver a baby just as good drunk as he could sober. Maybe so, he delivered me.
Mama's last child, my baby sister, was born in a hospital. I was a young boy, I didn't even know Mama was pregnant. All I knew was, Mama was gone. The first day in my whole life not being able to see her face. I was scared. I didn't know what a hospital was, and why did some mean people take her there? Would I ever see her, again? I could not be comforted.
Late one evening, maybe four days after Mama was taken away, there was a commotion in front of the house. I ran to the window, drew back the curtain and saw an ambulance parked in front of the house.
I was called away from the window and made to stand in clear view of the front door but not in the way of those who would be entering. A lump was in my throat. I had no idea what would happen when that door opened.
When the door was opened, I saw the foot of a gurney. As my eyes traveled towards the head of it, I saw a tiny baby all bundled up with an arm around it. But where's Mama!!?? Wait, that's Mama's arm around the baby! Immediately, my eyes darted to the face of the woman protecting her newborn from that brief but bumpy ride. I have never seen a more beautiful sight in all my life.
I even remember one of the attendants telling the other to be careful as he lifted the gurney so the wheels would clear the door sill.
This may well be my first remembered memory. It certainly is the most precious among my first.
We don't know the things we can't remember. But I have made an interesting finding. If we start with the things we can remember and play them again in our minds during a quiet stress free time, one memory will bring up another, and from that, another.
Memories have been locked in my mind for seventy years without me realizing they were there. It is a wonderful experience to discover what is there and I didn't even know it.
Was I being melodramatic when relating the account of mean people taking my Mother away and then returning her with a tiny baby? No. Not at all.
In that day there was no TV, no PCs, no Nintendos or smart phones, just an old tube type radio.  But just because the year was 1945 or 46 doesn't mean there wasn't excitement, mystery and challenge. It was all around, waiting to be experienced by a wide eyed, curious little boy nicknamed 'Cotton Top'.