When last Mother's Day rolled around, I thought my mother would enjoy reading my own remembrances. I took a decorative glass jar with a lid and made a "Jar of Childhood Memories" for her to read. I typed all kinds of moments remembered from my childhood. Each one began with "I remember".
Example: I remember you driving me to music lessons every Saturday. Once I started, the memories just flowed. I typed them all up, double-spaced, and cut them into single memories.
I filled my memory jar, tied a pretty bow around it and put it in the mail to my mom who lives 400 miles away. She later told me that my memory jar was so much more personal than a card. The whole family had fun reading and remembering each and every one. She said it had taken her back down memory lane, which she hadn't traveled in years.
By vickie guy from Earle, AR
Read More Comments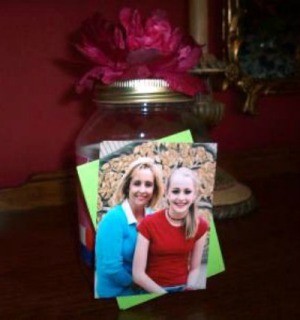 This fast and inexpensive Mother's Day jar is sure to please any mom or grandma.
Approximate Time: About 30 minutes
Supplies:
1 quart canning jar or other quart glass jar with lid
1 sheet of decorative paper
1 sheet or coordinating solid color paper
favorite photo of mom and child
1 sheet white paper cut into 2 x 1/2 inch strips
1 artificial flower
hot glue gun and glue sticks or craft glue
Instructions:
Cut decorative paper into an 12 inch x 3 inch strip.
Wrap paper around jar and glue ends to back of jar.
Cut solid coordinating paper into a 4 x 3 inch rectangle.
Glue photo at angle on coordinating paper.
Attach to front of jar with glue.
Write happy thoughts and praises to mom on each strip of paper. Fold each strip in half and drop into jar.
Glue flower to top of lid and place on jar.
By Mom of 1 from Wilkesboro, NC
Read More Comments